"A garden returns 50 times the investment you put into it. Not just food, but joy, peace, and a real connection with creation. A spiritual retreat from a noisy world and hurried people. Grow a garden."
I love this quote!  I am not sure where I found it, but it spoke to me.  We may not be retreating from a noisy world and hurried people right now.  But we may be retreating from being inside a home for a long period of time and require the need to be in nature, feel the sun, breathe fresh air, or to put our hands in some soil.  
This Sunday, my daughter Abby and my friend Gina met (at a safe distance from each other) at the first NEW HeartBeet Farms garden to begin the process of weeding and preparing for planting. This new 2600 square foot organic garden is located on East Main Street in Smithtown. It has a beautiful deer fence surrounding it. It sat fallow the year prior which is great for the soil, but requires a bunch of prep work for us. The property surrounding the garden has some livestock including sheep. There is something very cool about hearing the 'bahhs' of the sheep while you work in the garden!
What is the Purpose of the NEW HeartBeet Farms Garden?
The first new HeartBeet Farms garden has 3 primary purposes:
A. The Garden will be used to support our farm to table soups. We will grow vegetables for our soups. Our soups are produced throughout the year. During specific times of the year we host a Soup CSA. However, at other times, our soups will be available via Rustic Roots Organic Delivery Service and through a few other venues to be announced later on.
B. We will not be hosting a farm stand or CSA this season. However, we will be inviting clients to visit the garden on specific days and times during the week to come select the vegetables they want to be harvested. We had developed this plan mainly because we wanted to eliminate waste and harvesting vegetables that were not being sold.
By having clients select exactly what they want to purchase, we eliminate a lot of waste – the waste of actual product, time and energy that is put into the harvesting, bunching and washing process. This client harvesting strategy also ensures that the vegetables are not handled by anyone other than the harvester (who wears gloves) and the client. – something that has become even more critical in our current world. Anyone who has an interest in participating in our garden, should complete this FORM. And as we get closer to harvesting time, we will reach out with additional details, dates and times.
C. Our Garden will also be used for education.  We will engage people and interns interested in learning about gardening, farming and growing organically.  Teaching these skills is of such importance in today's world for so many reasons including the need for the renewal of our Earth's soil and the need to know and be accountable for where our food is coming from.
Starting Anew
When we left the Centereach property, we donated all of the equipment, tools, soil, irrigation, greenhouse equipment and seeding trays that we funded during our three years at the Centereach Farm. So, we are starting from scratch. An important mission of HeartBeet Farms is to reuse and recycle. In order to get started, we have decided to not purchase seeding trays. We are reusing as many items from our own kitchen pantry that can properly support seed germination. In addition, since we don't have a greenhouse currently, we decided to construct one from an old 10×10 tent , some painter's drop clothes and tape.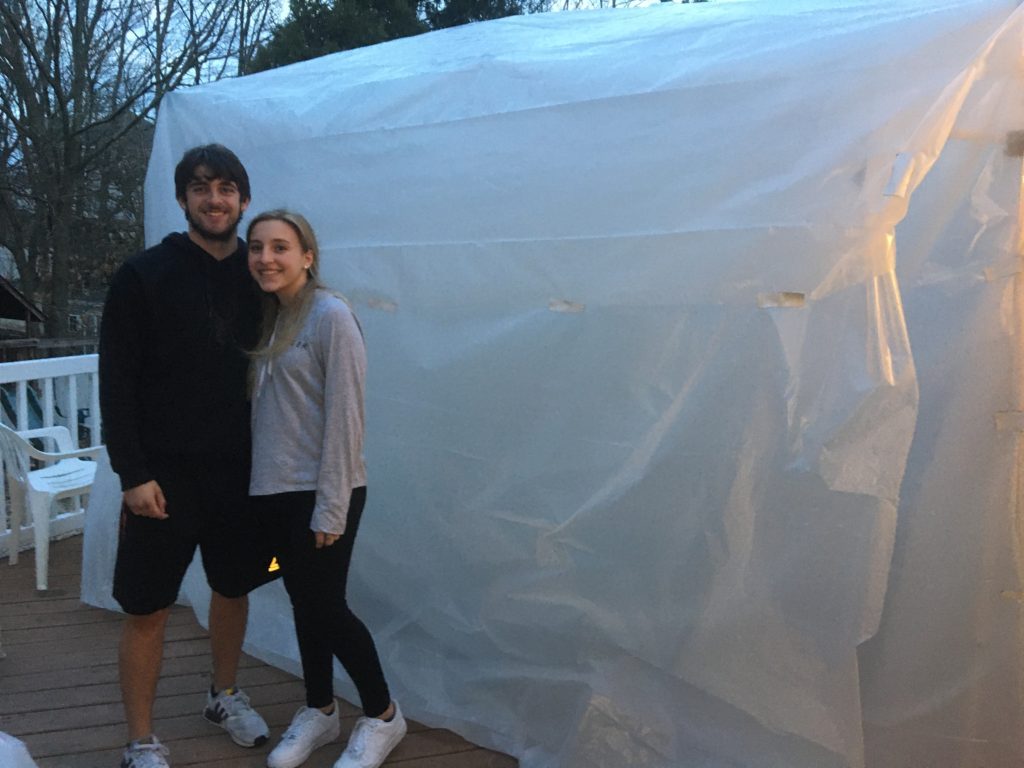 Maximizing Vegetables from a Small Space
This new garden is 2600 square feet – significantly smaller than the land we were producing on in Centereach. However, you do not need a lot of land to produce a lot of vegetables. Real gardeners out there know this to be true! It is our goal this year to put our learnings from all the courses and books we read to great use and practice the art of maximizing organic vegetable production on a very small piece of Earth.
In addition, it is also our goal to help others do the same. For those looking to get involved in a garden, please reach out and we will gladly have you come and help us. For those who want a little more, we will help you start your own garden! Click here to let us know your intentions and we will see how we can help you get jump started. Now is the perfect time to start planning and executing a backyard (or front yard) garden. Many of us have more time, need to get outside, and see the need for creating a healthy food source of our own. Knowing where your food is coming from is very empowering!
Through the next few months we will take you on our journey in developing this new organic garden. We hope to see you this season. And don't forget to send us your pictures and video from your own gardens! Together we can create change!