The cantaloupe, rockmelon, sweet melon, or spanspek is a melon that is a variety of muskmelon species.
A one-cup serving of cantaloupe has only 53 calories, but it contains 106 percent of the vitamin A daily value and 95 percent of vitamin C. It's also a good source of potassium and folate. From June through August, cantaloupes are at their peak of flavor. Whether you enjoy them sliced, cubed or halved, cantaloupes are a refreshing, healthy addition to salads, desserts, beverages, and more. Here are some great ways to enjoy this healthy fruit:
Shaved Cantaloupe Salad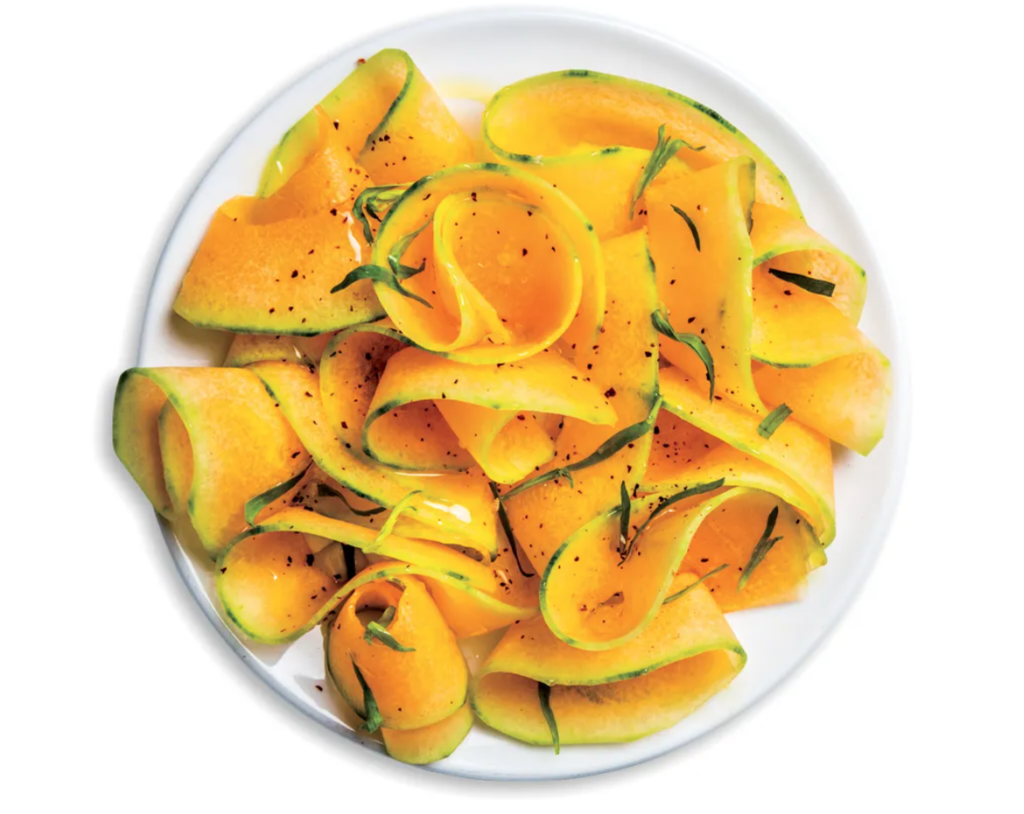 Ingredients
2 medium cantaloupe
Olive oil (for drizzling)
Tarragon leaves
Aleppo-style pepper
Flaky sea salt
Directions
Remove rind of cantaloupe in a very thin layer with a knife; remove seeds. Cut in half and very thinly slice each piece crosswise on a mandoline or by hand to make ribbons.
Arrange cantaloupe on a platter and drizzle with oil. Top with tarragon, Aleppo-style pepper, and sea sal
Salted Honey Cantaloupe Jam
Ingredients
2 cups coarsely chopped cantaloupe
1 cup sugar (we use monkfruit sugar)
1/3 cup fresh lemon juice
1/2 cup honey (local if possible)
1 teaspoon kosher salt
1 teaspoon powdered pectin
Directions
Bring cantaloupe and 1 cup water to a boil in a medium saucepan, mashing lightly with a potato masher.
Add sugar and lemon juice and bring to a boil, stirring constantly.
Cook, stirring, until mixture is thick, 15–20 minutes.
Stir in honey, salt, and pectin and boil vigorously, stirring 2 minutes. Let cool. Transfer jam to a glass jar, cover, and chill.
Melon Salad with Arugula, Fennel, and Marjoram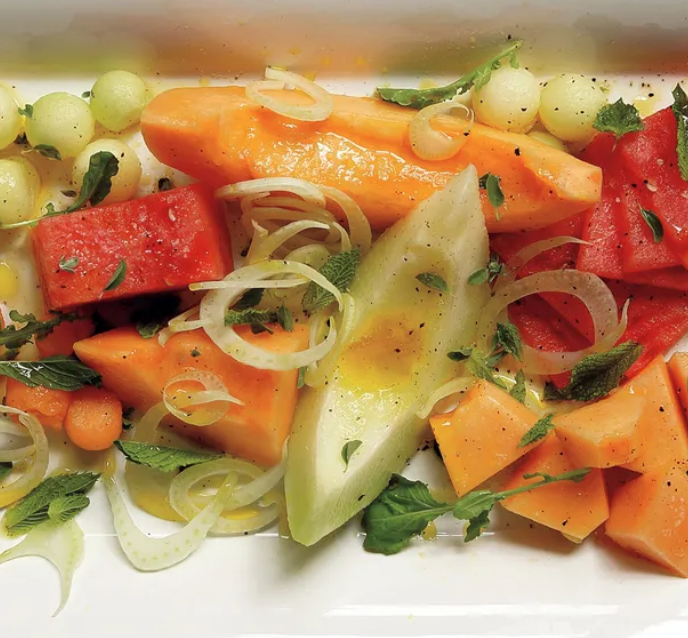 Ingredients
1/2 medium Cantaloupe melon, rind removed and flesh cut into 1/2-inch pieces (about 3 1/2 cups)
1/2 medium Honeydew melon, rind removed and flesh cut into 1/2-inch pieces (about 3 1/2 cups)
1/4 small watermelon, rind removed and flesh cut into 1/2-inch pieces (about 1 cup)
1teaspoon kosher salt, plus more for seasoning
1 medium fennel bulb, thinly sliced
3 tablespoons extra-virgin olive oil
1 1/2 tablespoons moscato vinegar
2 loosely packed cups baby arugula
2 tablespoons fresh marjoram, large leaves torn
Directions
In a large bowl, combine the melons and watermelon. Sprinkle with the salt and toss to combine.
Add the fennel to the bowl. Drizzle the oil and vinegar over the melons and fennel and gently mix with your hands. Let the melon and fennel marinate in the dressing at room temperature for 10 minutes.
Add the arugula and marjoram to the bowl and toss until just combined. Season with salt. Transfer the salad to a large rimmed serving platter or shallow salad bowl. Pour any juice from the bowl over the top of the salad and dig in.
Vegan Cantaloupe Ice Cream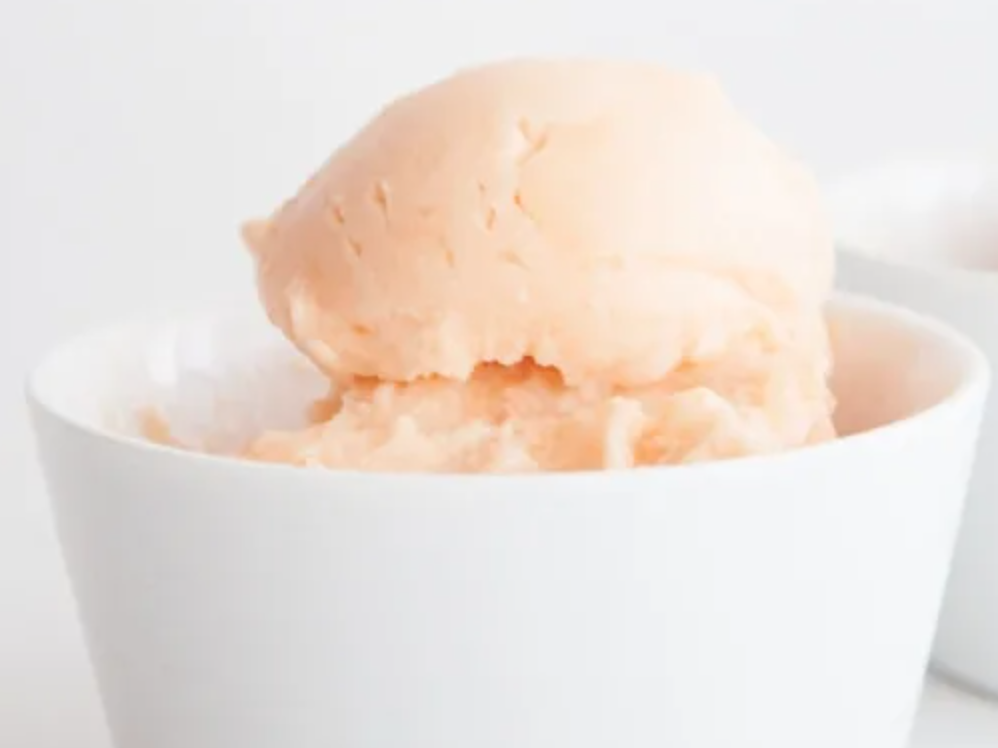 Ingredients
1/4 cantaloupe melon
1 banana
Directions
Cut the banana and the cantaloupe (remove the skin and seeds) in pieces, put them in a ziploc bag and freeze them overnight.
Put the frozen banana and cantaloupe pieces in your food processor or high-speed blender.
Pulse or blend until completely smooth. (Don't give up, this may take a while depending on the power of your processor.)
Transfer the ice cream in the bowls and enjoy immediately!
Cantaloupe Cucumber Salad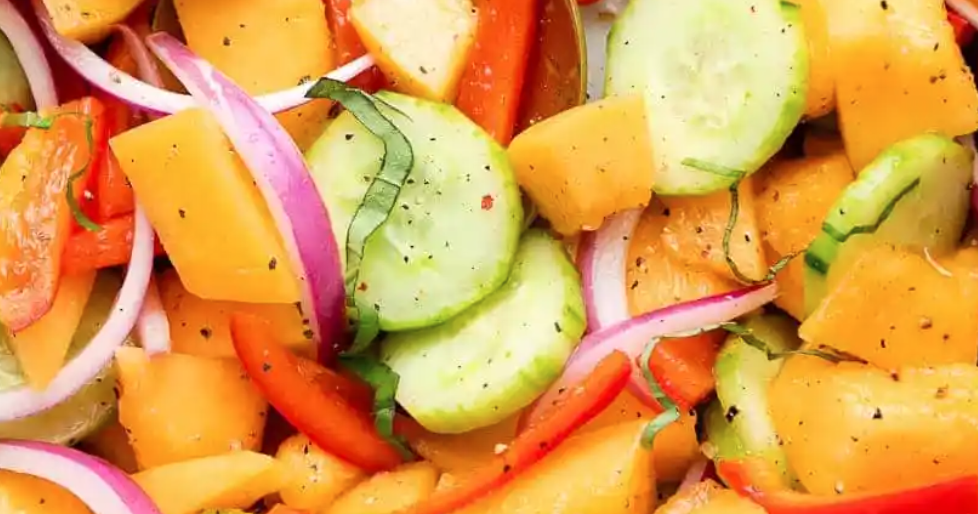 Ingredients
1 cantaloupe, seeds removed and cubed
1 large cucumber, thinly sliced
1 large red bell pepper, thinly sliced
½ large red onion, thinly sliced
3 – 4 tablespoons apple cider vinegar 
1 tablespoon olive oil, optional
½ teaspoon fresh cracked pepper, or to taste
good pinch of salt
fresh basil or mint, to garnish (optional)
Directions
Cantaloupe: Slice your cantaloupe in half (doesn't matter if you slice it horizontally or vertically). Scoop out the seeds with a large spoon and discard them. Slice your cantaloupe halves into 5 or 6 slices. Using a sharp knife, cut from one end of the slice to the other as close as you can to the rind, slowly and carefully cutting the orange flesh away from the peel. Slice into bite-size pieces.
Cucumber: Slice off each end and using a vegetable peeler remove the outer skin (leave skin on for extra nutritional value and fiber). Slice the cucumber into ⅛ – ¼ inch slices.
Bell Pepper: Wash and core your bell pepper. Slice into ¼ – ⅛ inch slices. Cut the slices in half.
Onion: Slice the onion in half lengthwise. Cut off both ends of one of the halves and remove the outer layer. Place the sliced onion, end cut down, and slice into ⅛ – ¼ inch slices. If onion slices seem too long for you, cut them in half.
Assemble salad: Place ingredients in a large bowl. Add apple cider vinegar, salt, and pepper and mix well to coat. Cover and set in the refrigerator for an hour or so to chill and marinate, mix occasionally if you like.
Serve: Salad can be served chilled or at room temperature.
Store: Leftovers can be stored in the refrigerator in an airtight container for up to 5 – 6 days.