We were never the biggest fans of eating radishes but many of our customers love them! Over the years, we have grown several different varieties of radishes. We always assumed that radishes were mainly eaten raw and added to salads. And when raw, they have a significant spice to them which varies based on the variety.
After a recent farmers market, we had a good amount of radishes left and we were not able to donate them. We were not going to let them go to waste so we did some recipe research on radishes. And we were surprised to learn that, when cooked, radishes turn sweet! We discovered a recipe for roasted radishes that looked delicious…so we decided to make it for Sunday's dinner!
Ingredients
Radishes
Seasoning – you can use any type of seasoning; we used garlic and a little sea salt. But feel free to be creative with seasoning!
Olive, Safflower or Avocado Oil
Vegan Butter
White Miso
Directions
Clean the radishes and remove the greens. Clean and soak them in a bowl. You can leave some of the greens but we preferred to remove them for our first experience.
Place the radishes in a bowl. Add a little oil to the radishes and mix to spread the oil. We just put our hands in and mix! Remember that a little oil goes a long way. Don't use too much oil! We try our best to figure out a way to eliminate oil from our recipes but since we never tried roasting radishes before, we used oil. However, we decreased the amount of oil significantly.
Add your seasoning.
Roast until the radishes are tender. You can use a fork to check them. The take about 30-50 minutes depending on your oven, the size of the radishes, etc…
In a pot, melt your butter and about a teaspoon of miso.
You can pull the radishes from the oven before they are done and add some miso butter and roast for another 5-10 minutes or you can jut remove the roasted radishes and pour the miso butter on them.
Serve and enjoy!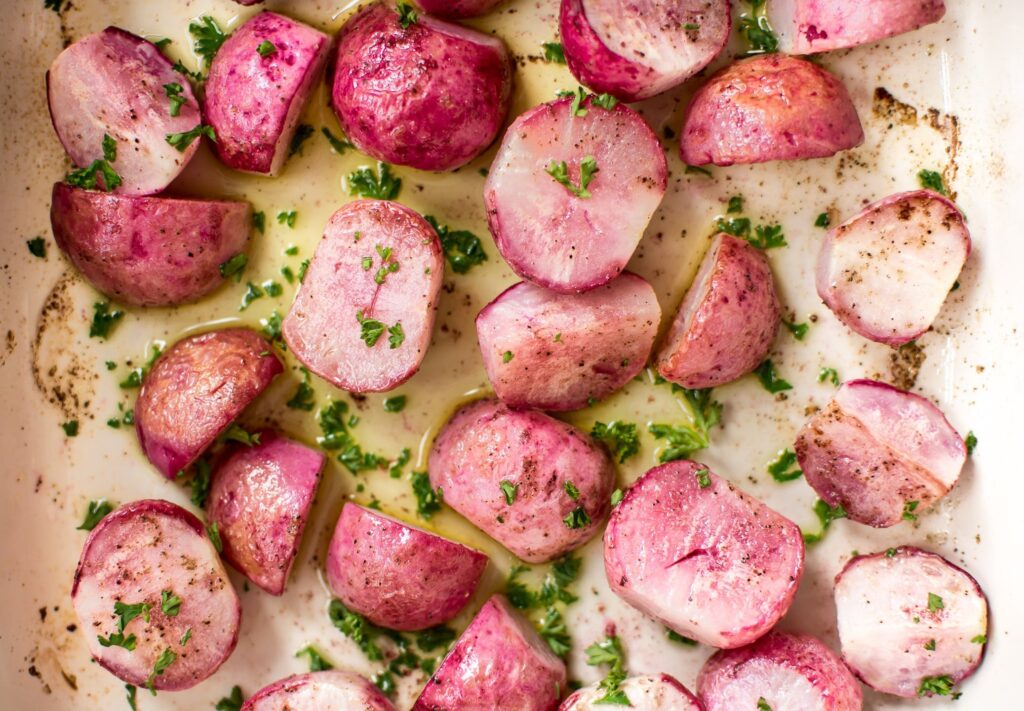 Roasted Radishes with Miso Butter
We served the dish with some fish for my family. While serving, my mom thought they were red potatoes and was so excited because they looked so good. We didn't say anything as we wanted to see if she liked them. She poured the miso butter on the radishes and fish and almost finished her plate in minutes. Before she was done, we told her that she was eating radishes, not potatoes! She was shocked! So was I truthfully. The radishes were so sweet and tender. They didn't taste like a potato at all. We are not sure what to compare the taste to – they were definitely sweet and not spicy! IF you are at a farmstand, grab some radishes and roast them up for dinner!