It's watermelon season in Long Island! Cutting up a watermelon on a hot summer day is probably the best way to savor a watermelon's sweetness and hydrating power. However, there are so many other ways to savor a locally grown watermelon. Here are some ideas for you to experiment with:
1. Watermelon Granita
A granita is a semi-frozen dessert, like a sorbet or Italian ice traditionally made from sugar, water and various flavorings that originated in Sicily. A seedless watermelon is best for this recipe. Just cube your watermelon. Blend the cubes of watermelon, fresh lime juice and sugar. For a healthier sugar, use monkfruit sugar! Place it into a dish and put in the freezer. Check it every hour or so to move things around. It becomes like a chunky italian ice. It takes about 3-4 hours to set in the freezer. Serve for dessert!
2. Feta Watermelon Snacks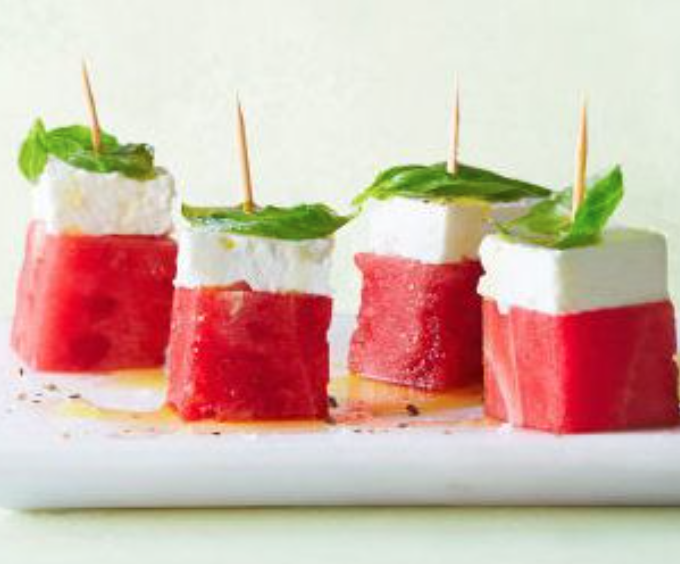 Cut one eedless watermelon into 1-inch cubes. Top with one (1-pound) block feta cheese. Cut into 1-inch squares (1/4 inch thick), and 1 cup basil leaves; secure with toothpicks. Transfer to platter; sprinkle with 3 tablespoons olive oil and 1/4 teaspoon each salt and pepper.
3. Watermelon & Chocolate Chip Ice Pops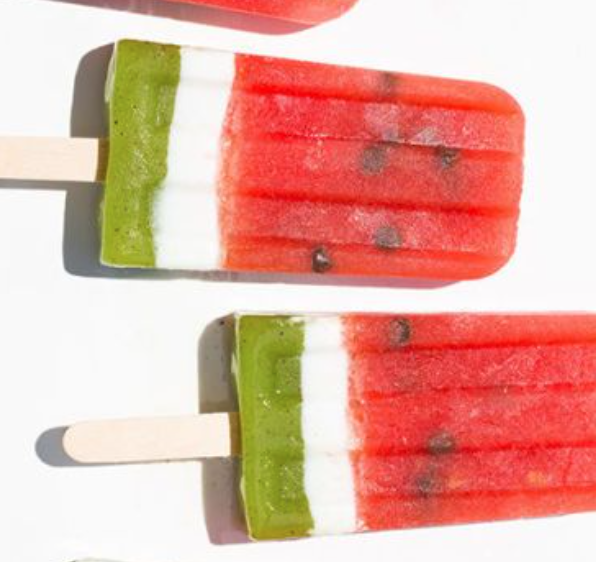 Ingredients
Cubed seedless watermelon
5 1/2 tablespoon granulated sugar, divided; we use monkfruit sugar as a healthier alternative
1 tablespoon fresh lemon juice
1/2 cup canned coconut milk
13 oz kiwi (about 6 medium)
1 tablespoon mini chocolate chips
Directions
Add watermelon, 2 Tbsp sugar and lemon juice to a blender until pureed. Skim off foam then carefully pour into 10 popsicles molds filling each about 2/3 full.
Sprinkle the chocolate chips over tops then using a popsicles stick gently push down to immerse chips. Cover with the lid and insert popsicles sticks. Freeze 3 1/2 hours.
During last 30 minutes of popsicles freezing, whisk together coconut milk with 1 1/2 Tbsp sugar until sugar has dissolved, chill 30 minutes (you want it to be a nice pourable consistency after chilling, not too thick. If you find that it is stir in 1 – 2 Tbsp cold water to thin.
Remove popsicles from freezer, remove lid and carefully pour a scant tablespoon coconut milk into an even layer over watermelon layer (it works best to pour it down the outside edge then wipe clean). Clean sides as necessary. Return to freezer, uncovered, and chill 45 minutes.
Meanwhile, cut tops from kiwi and use a spoon to scoop flesh from kiwi while leaving skins. Transfer kiwi to blender along with 2 Tbsp granulated sugar. Pulse until well pureed. Force mixture through a fine mesh strainer into a bowl using a rubber spatula to remove seeds. Chill kiwi mixture 30 minutes.
Remove popsicles from freezer and carefully pour about 1 Tbsp kiwi mixture over coconut layer. Return to freezer and chill until popsicles are solid about 2 – 3 hours.
To remove popsicles from molds, turn tray to the side and run plastic molds under warm water several seconds (don't let the water touch the kiwi portion at the top) then slowly pull from molds.
4. Watermelon Arugula Salad
In large bowl, whisk 2 tablespoons each olive oil and red wine vinegar and 1/4 teaspoon salt. Add 3 cups each cubed seedless watermelon, sliced peaches and baby arugula; 1/2 cup packed basil leaves; and 1/4 cup toasted hazelnuts, chopped. Serve & savor!
5. Spicy Watermelon Vegan Soda
Ingredients
For the jalapeño simple syrup:
1/2 cup granulated sugar
1/2 cup water
1 jalapeño , diced (seeds removed if you don't like things super spicy)
For the watermelon soda:
5 cups diced watermelon
1 lime , juiced
2 cups soda water
Jalapeño simple syrup (using recipe below)
Directions
Make the jalapeño simple syrup:
In a small saucepan over medium heat, add sugar and water. Let cook until sugar has dissolved and then remove from heat.
Add in jalapeño and let steep for at least 1 hour.
Strain out jalapeño and transfer syrup to a sealable jar. Stick in fridge until ready to use.
Make the watermelon soda:
Working in batches, puree the watermelon in a blender and then strain through a fine mesh strainer.
Stir in lime juice. Transfer to a pitcher and add soda water and ice.
Add in 1/4 cup jalapeño simple syrup and taste. Add more simple syrup if desired.
Serve chilled right away.
6. Honey Grilled Watermelon Salad
Ingredients
2 large, round watermelon slices, each cut into 4 triangles
2 tablespoons olive or safflower oil
1/2 teaspoon salt
1/2 teaspoon pepper
2 tablespoons local honey
1 pint of grape tomatoes, quartered
4 ounces of fresh mozzarella, cut in half or sliced (optional)
a bunch of fresh basil leaves
balsamic glaze for drizzling
Directions
Preheat your grill to medium heat. Brush both sides of each watermelon triangle with olive oil and season all sides with salt and pepper. Add a drizzle of honey over each triangle and place them on the grill, grilling each side for about 2 minutes. Remove and add a little more honey if desired.
Assemble salads by placing 2 watermelon triangles on each plate, then cover with a sprinkle of tomatoes, mozzarella and basil leaves. Add some salt and pepper on top, then drizzle with balsamic glaze. Serve!