The HeartBeet Farms CSA is well underway with a diversity of nutritious vegetables, soups and sauces! Our CSA is designed to distribute seasonal produce. The beginning of the season launched with many greens including kale, swiss chard, lettuce, and herbs. Our spring spinach and broccoli bolted right before the CSA launched, but we hope to have more spinach and broccoli in the fall!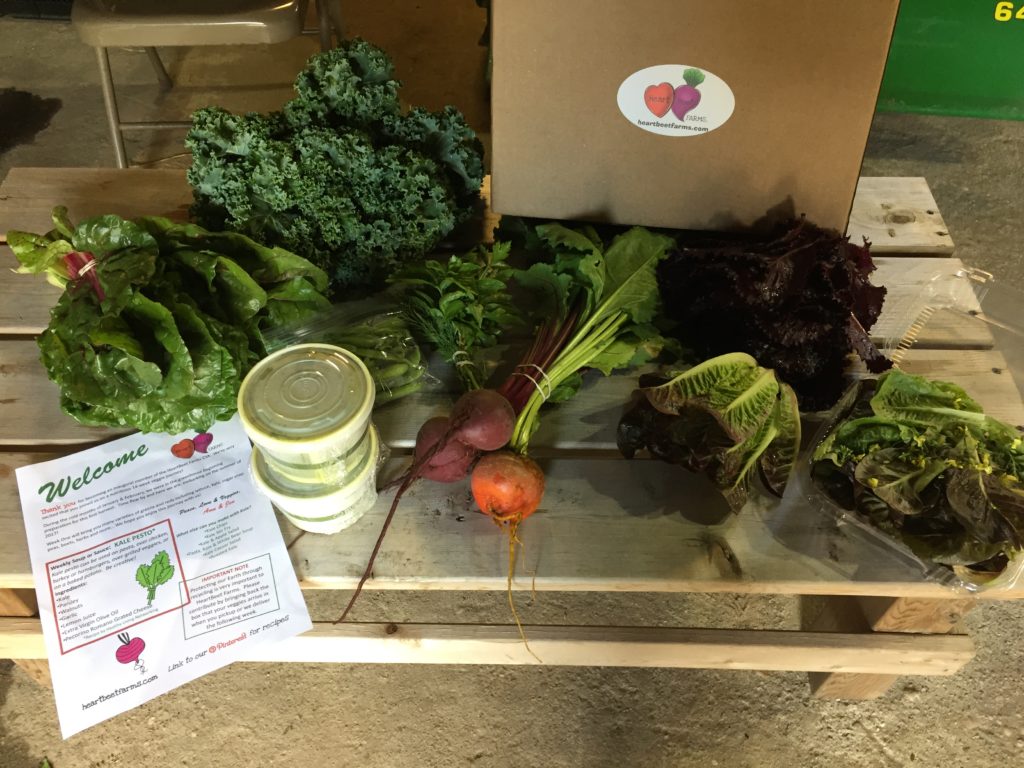 The Week 1 CSA box included kale, swiss chard, golden and red beets, romaine, red lettuce, basil, dill, rosemary, sage and featured a kale pesto sauce. Our soups and sauces are prepared by Healthy Living Networking. Healthy Living Networking specializes in nutrition coaching and also prepares weekly nutritious meals for their clients. The main ingredient of our CSA soups and sauces are harvested right from our farm!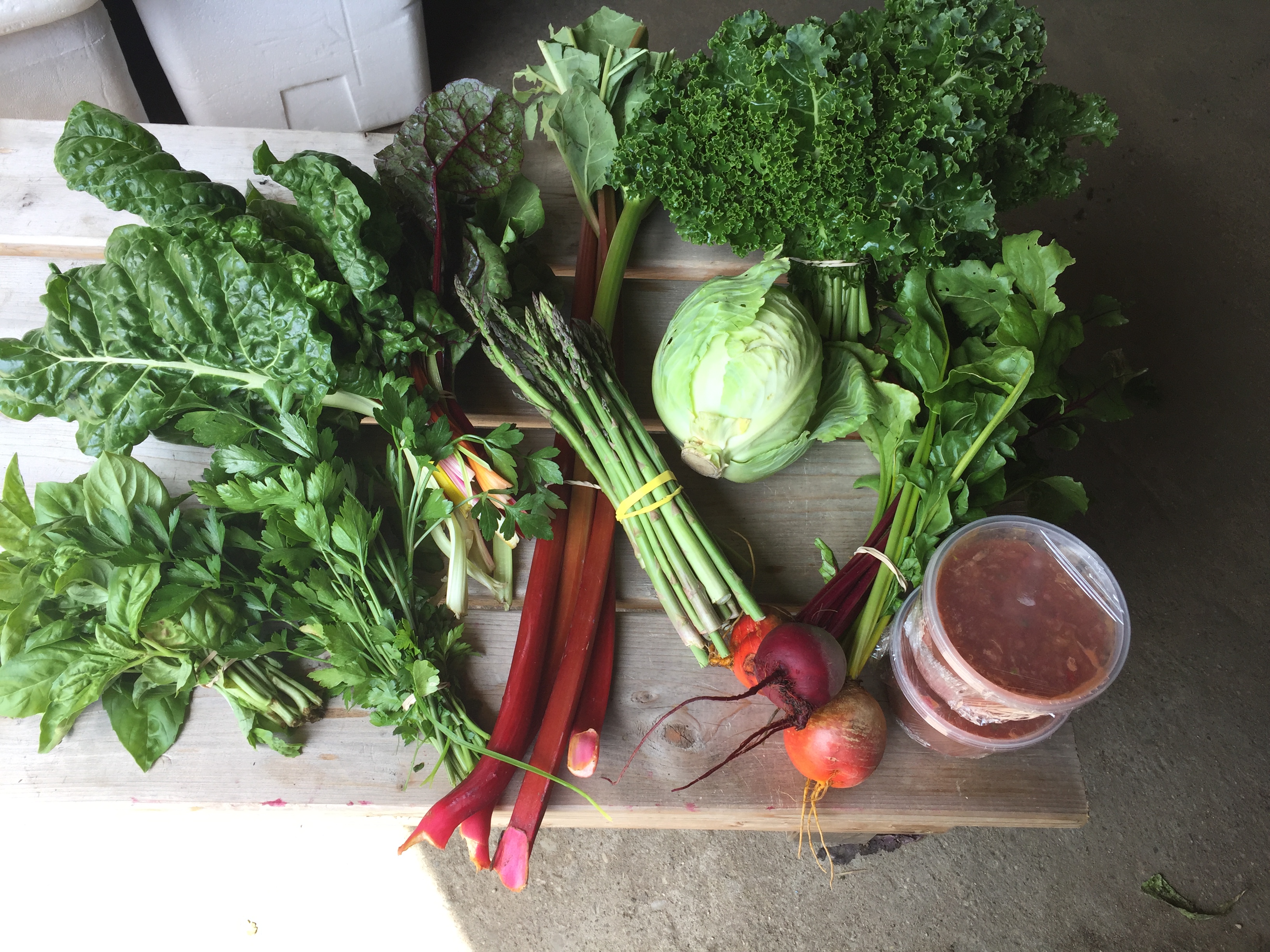 Week 2 CSA included kale, swiss chard, green cabbage, asparagus, rhubarb, golden and red beets, parsley, basil & rhubarb salsa! The green cabbage was a huge hit with many CSA customers who prepared roasted cabbage and cole slaw (see recipes below)! Many also experimented with and prepared delicious desserts with rhubarb including a rhubarb, strawberry and blueberry compote. (see recipe below!)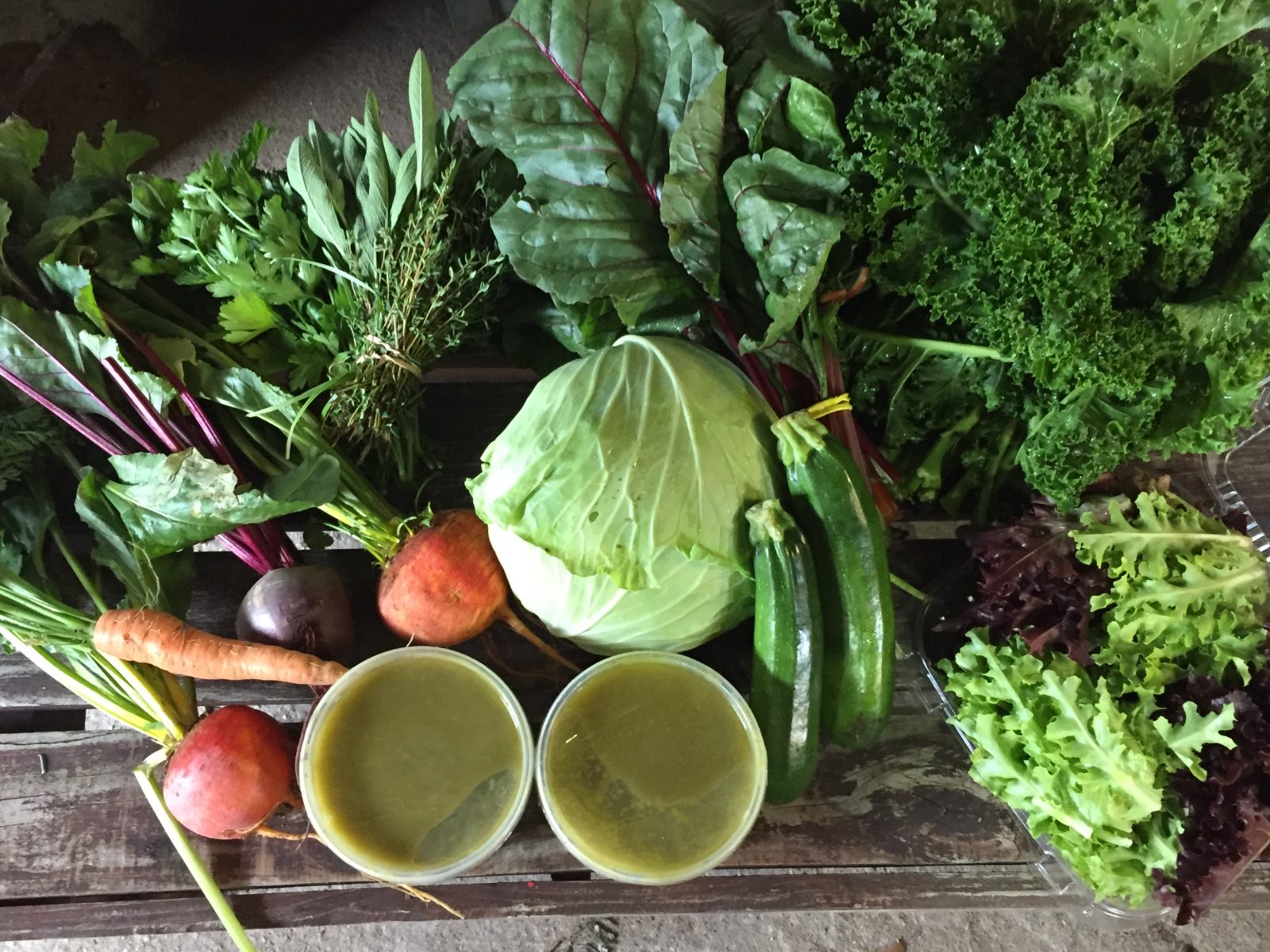 Week 3 included kale, swiss chard, golden & red beets, herbs, mixed lettuce, green cabbage, zucchini, one carrot (a tease for the week!), & asparagus soup.
We have received tremendous feedback from our CSA members telling us that they, "never would have experienced these tastes were it not for HeartBeet Farms CSA." Many have also expressed their excitement and anticipation about finding out what is in the next CSA box. Membership in a CSA forces you to create and experiment in the kitchen! And our HeartBeet Farms CSA offers that instant meal and a day off from having to create and experiment!
We are truly enjoying the opportunity to interact with and learn from our CSA members. Continue sharing your recipes and what you prepare each week and give us feedback about the veggies and fruits as well. This is our very first CSA and we have a lot to learn as we expand the program! Are you ready for Week 4?
Rhubarb, Strawberry, Blueberry Compote (from CSA Member Roberta)

2 to 3 stalks of rhubarb, cut into inch long cubes
1 pint of strawberries
1 pint of hulled strawberries
2 teaspoons of vanilla (or more, according to taste)
1/2 cup of sugar
Mix together in a slow cooker, cook on low for 2 hours, and eat either warm of chilled. We had ours warm with a dollop of plain yogurt – delicious!
Roasted Cabbage (from CSA member Roberta)
Cabbage
Olive Oil
Sea Salt
Pepper
Garlic, if desired
Slice the cabbage into 4 or 5 pieces. Place the slices flat on a cookie sheet. Lightly brush olive oil and sprinkle with sea salt and pepper (and – if you like garlic, rub garlic cloves or lightly smear garlic paste over each slice). Roast about 20 minutes at 400 degrees, turn over and roast another 20 minutes or so (cabbage slices should be crispy on the edges)