For Black History Month, we are honoring the farm family who owned the property that HeartBeet Farms currently resides on. The Hobbs Family left their mark on our soil, allowing us to continue farming and producing vegetables rich in nutrition.  The Hobbs Family Farm impacted the lives of many local residents through the produce they grew and the generosity they displayed.
Farm Family Moves from Georgia to Centereach, Long Island
James Henry Hobbs, father of Alfred Hobbs, was born in Georgia in 1863.  James Henry Hobbs, Annie Hobbs (his wife), and their 8 children came to Long Island in 1906 from Macon, Georgia. The family lived on Pond Path at the Chandler Place. James and Annie had 4 more children who were born in Long Island, NY, for a total of 12 Hobbs children.
In 1917, James began to farm what is now known as Hobbs Farm and HeartBeet Farms in Centereach. He did not officially own the property until 1927.  The Hobbs family was the only black family in Centereach for many years. They sold their farm produce in NYC markets to generate income.
Tragically, on Thanksgiving, 1929, James Henry Hobbs was found dead in his car on the way back from a NYC market.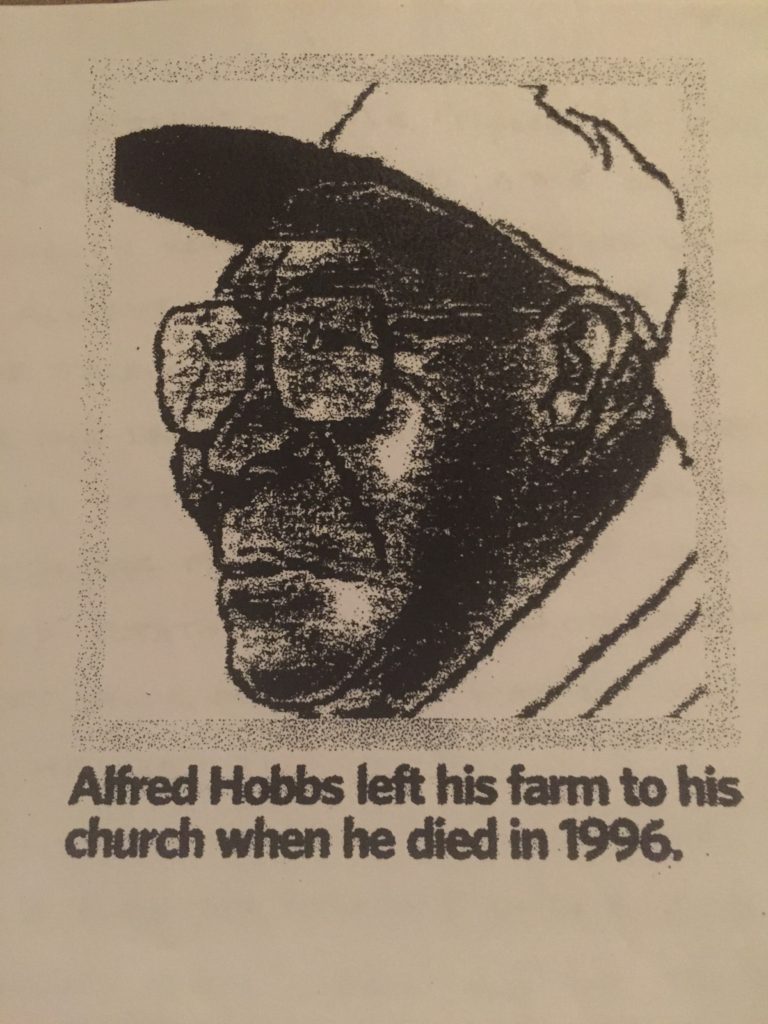 Alfred Hobbs was one of James and Annie's 12 children.  He was born on March 6, 1906. Alfred started farming with his father at a very young age. Out of all of the 12 Hobbs children, Alfred was the only true farmer- he had a passion for it and preferred to run his own business vs. working for others.  He took over the Hobbs Family Farm and officially purchased it from his brothers and sisters in 1955. In addition, he also leased parcels of land for farming in the nearby Setauket area.
Alfred tried his hand at many careers and was offered many career and management opportunities including becoming a police officer and being a foreman for Sam Hawkin's . But his heart and soul was in farming…and that is where he generated a nice income as well!
At 19 years old, Alfred married Selor from New Jersey.  Alfred and Selor did not have children of their own. Many years later, after Selor's passing, Alfred remarried Eva Matthews, who also passed before Alfred.
A True Patriot & Humanitarian
During WWII, the Hobbs Farm became a Victory Farm, serving as a food source for military officers. Victory gardens or victory farms were also called "war gardens" or "food gardens for defense".  These gardens were planted on private residences or on public land during World War I and World War II. The goal of these victory gardens was to reduce the pressure on the public food supply brought on by the war.  American families helped produce food to help prevent a food shortage and ensure there was enough food for the soldiers fighting around the world.  Alfred's giving and patriotic nature was evident in how he served his local community.
Alfred grew collard greens and cabbage, among many other vegetables and fruits.  He also grew peppers and was known as the Pepper King or Pepper Man at times. He also grew the sweetest watermelons on Long Island! Alfred did did not believe in killing the roots – which is how we farm today!  He also used the moon to help guide him on when to plant and harvest.
Alfred passed away on July 17, 1996 at the age of 90. He is buried with his
first wife Selor at Washington Memorial Park in Coram.  His left his property to Bethel AME Church in Setauket with a stipulation that he wanted the land to continue as a farm. The property is owned by the church, but managed by the non-profit, Bethel Hobbs Community Farm.  The land continues to prosper and carry on the legacy of the Hobbs Family, as Alfred Hobbs had intended. We humbly honor the Hobbs Family during Black History month.
Sources:
Records from Town of Brookhaven Historian, Barbara Russell
Three Village Historical Society
Bethel AME Church
Discussion with Carlton "Hub" Edwards
Discussion with Herman Walker
"The Songs of Wildfields" by Ruth A. Rothermel
Audio Files of Alfred Hobbs from May 1981, Middle Country Library
Visit to Washington Memorial Park, Coram NY
Visit to Laurel Hill Cemetery
Suffolk County Deeds
Database compiled by Karen Buxton