There is nothing like fresh garlic from a local farm! Planting and harvesting garlic is a lengthy process that is well worth it! In Long Island, New York, garlic is typically planted in October and harvested approximately 9 months later in July or August, depending on mother nature.
However, this year, since the weather has been so warm, we decided to plant our garlic at the end of November. Some local farms that planted in October noticed that their garlic began to sprout out of the ground. We do not want the garlic to sprout out of the ground as the cold, snowy winter months are fast approaching.
Planting garlic at our farm requires some simple preparation…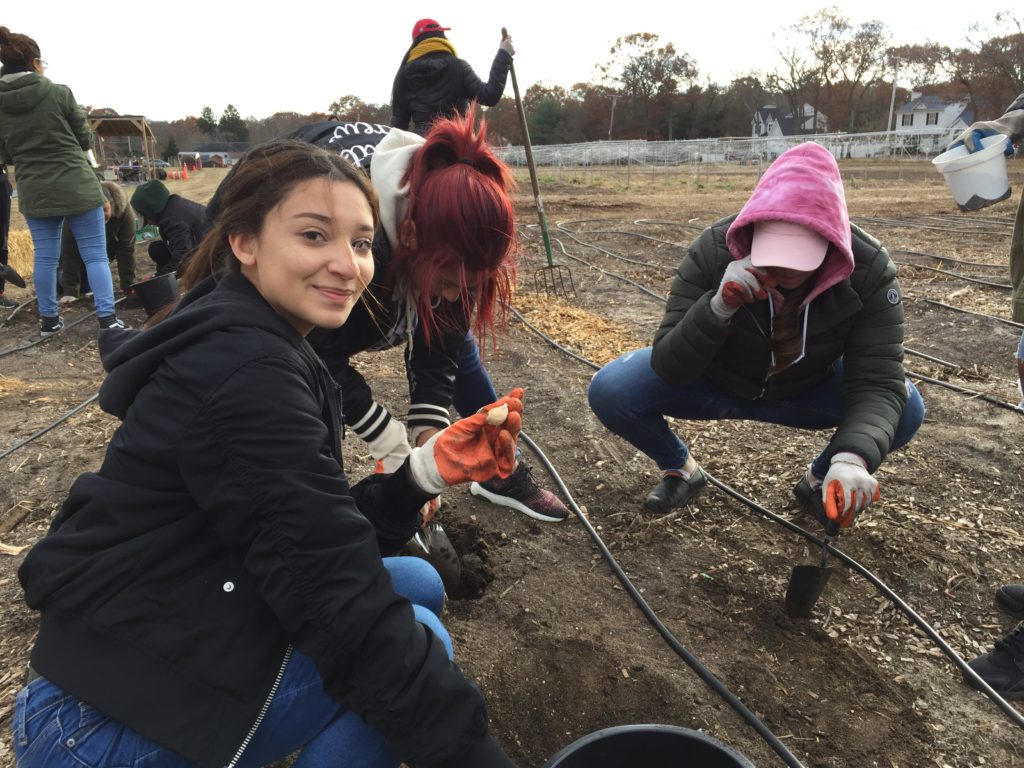 First we prepare the ground with any amendments – for us that includes boron, manganese and calcium.
The organic garlic cloves are separated into pieces. We leave the skin on the pieces as much as possible.
The garlic pieces are then soaked anywhere from 20 minutes up to 16 hours in a solution made out of water, baking soda and organic fish and seaweed fertilizer. (1 gallon of water, 1 tablespoon baking soda, 1 tablespoon organic fish fertilizer)
After, the garlic is strained from he solution.
We then soak the garlic in alcohol – we use vodka – for up to 20 minutes. The garlic must be planted within one hour following this process.
Plant the garlic 2 inches down and 4-6 inches apart.
Add organic bonemeal to each hole.
Water if needed.
Cover the field with a deep layer of hay to protect from the winter elements.
In approximately 9 months, the garlic will be ready to harvest. There is nothing like fresh garlic. When you purchase fresh garlic, ensure you do not put the garlic in the refrigerator. Avoid any moisture as the garlic still needs to cure. Garlic found in grocery stores has had a lengthy time period from harvesting to arriving at the grocery store. It has had time to cure so it can be placed in a refrigerator. Fresh garlic may produce mold if it is placed in the refrigerator.
Fresh garlic is an amazing addition to almost any recipe. Before we know it, our garlic will be ready to harvest! We can't wait!