PLANT-BASED, farm-to-table SOUPS
We are back with new recipes and a new focus on supporting anyone and everyone who wants to experience a plant-based lifestyle or just simply wants to enjoy clean, healthy soups.  Our soups are completely plant-based and oil-free! 
We will offer one type of plant-based soup each week - beginning the week of November 2nd. Purchase online the week prior (by Friday) and pick up at different pickup locations the following week. Choose your pickup spot when you purchase your soups.  Soups are sold by the Quarts only and can be frozen for up to 3 months! They can be refrigerated for up to 1 full week (sometimes more)!
Current Pickup spots will include: (we will be adding more)
1. Stony Brook Hospital (Wednesdays, 2-3:30PM; starts 11/11))
2. The Healing Center @ Port Jeff Salt Cave, 320 Main Street, Port Jefferson, NY 11777 (Wednesdays, 11AM-7PM; starts 11/11)
3. 20 Hickory Avenue, Farmingville, NY 11738 (Wednesdays, 2-7PM; starts 11/4)
4. Veterans of Foreign Wars Hall, 32 Edwards St, Patchogue, NY 11772; Thursdays, 3-6PM; starts 11/4
If you are interested in carrying our soups in your store or market, please contact us.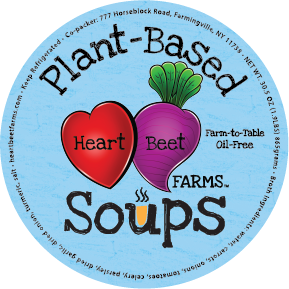 Weekly Soup:

Harvest Vegetable
ingredients: butternut squash, kale, carrots, tomatoes, onion, veggie broth, celery, garlic, seasoning includes a mix of onion, garlic, bell pepper, sea salt, black pepper, cumin, coriander, oregano, cilantro.

ORDER BY: Friday, October 30
ORDER PICKUP:  Wed/Thurs., November 4 & 5
Soup orders will start the week of November 2nd! Order the week prior (by Friday).  Current weekly soup & ingredient menu:
November 4/5: Harvest Vegetable: butternut squash, kale, carrots, tomatoes, onion, veggie broth, celery, garlic, seasoning includes a mix of onion, garlic, bell pepper, sea salt, black pepper, cumin, coriander, oregano, cilantro.
November 11/12: Sweet Potato & Carrot: sweet potatoes, carrots, cauliflower, veggie broth, ginger, onion, garlic, sea salt
November 18/19: White Bean Chard: Swiss chard, raw northern beans, onion, tomato, veggie broth, garlic, oregano, white pepper, red pepper flakes (*see nutritionals below)
November 25: Butternut Squash
December 2/3: Kale Lentil: dried golden lentils, kale, carrots, onion, garlic, veggie broth, white pepper, cumin, coriander, sea salt.(**see nutritionals below)
December 9/10:  Potato Leek: Yukon gold potatoes, onion, leek, garlic, veggie stock, tarragon, sea salt, white pepper.
December 16/17: Tomato Basil: tomatoes, onion, garlic, carrots, veggie broth, basil, white pepper, sea salt
December 23: TBD
Our Plant-Based Vegetable Broth Nutritionals
Here is the Nutritional Analysis and the ingredients for our Vegetable Broth that we use in all of our Plant-Based Soups. We are working on nutritionals for all of our primary soups over the next few months.
Broth Ingredients: Water, Carrots, Onions, Tomatoes, Celery, Parsley, Salt, Turmeric, Dried Onion, Dried Garlic.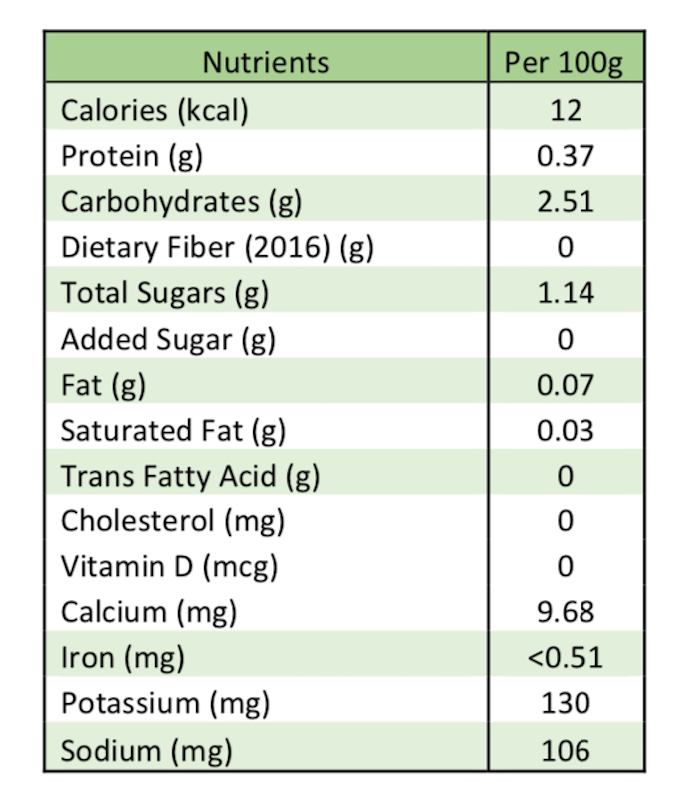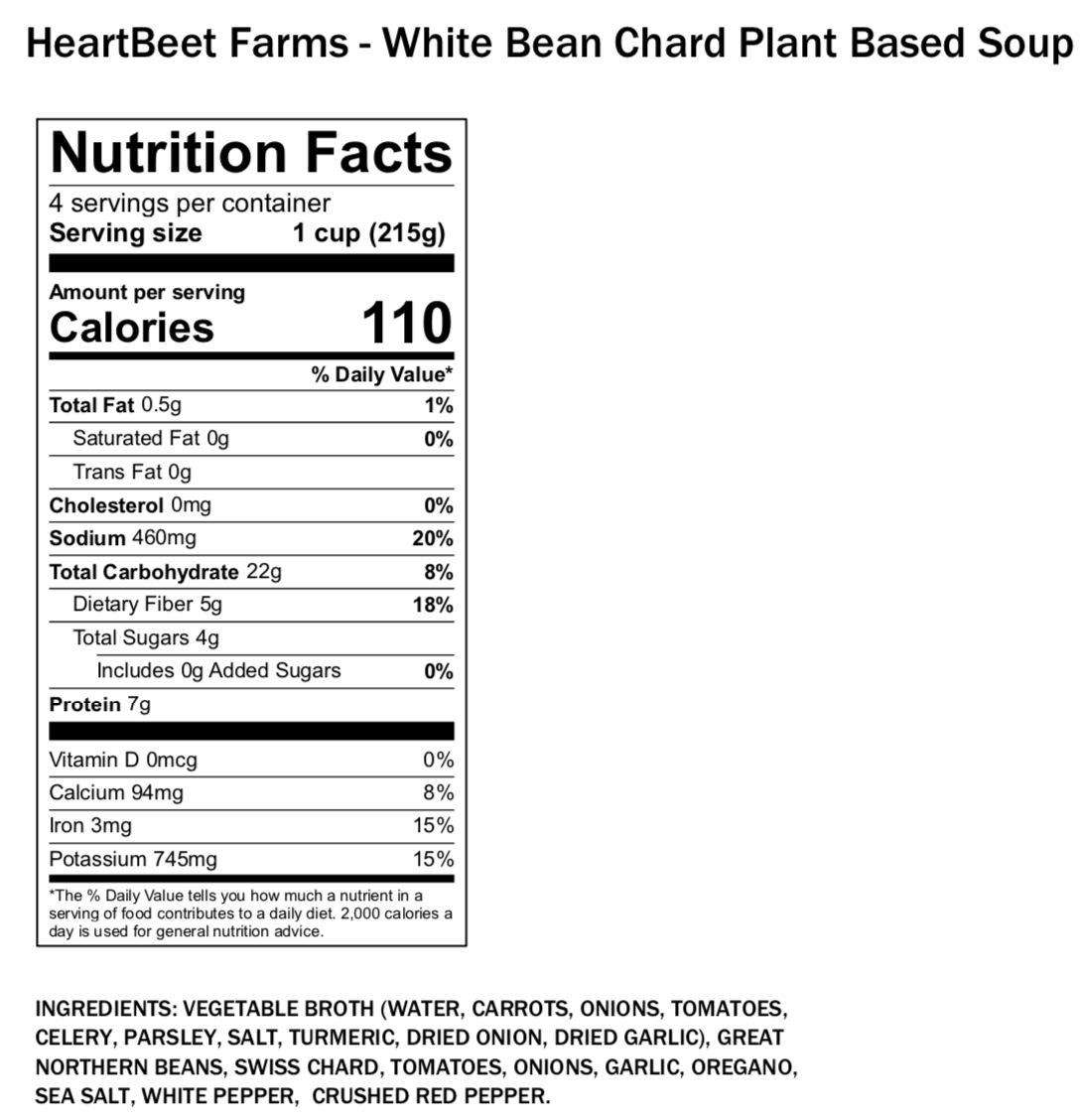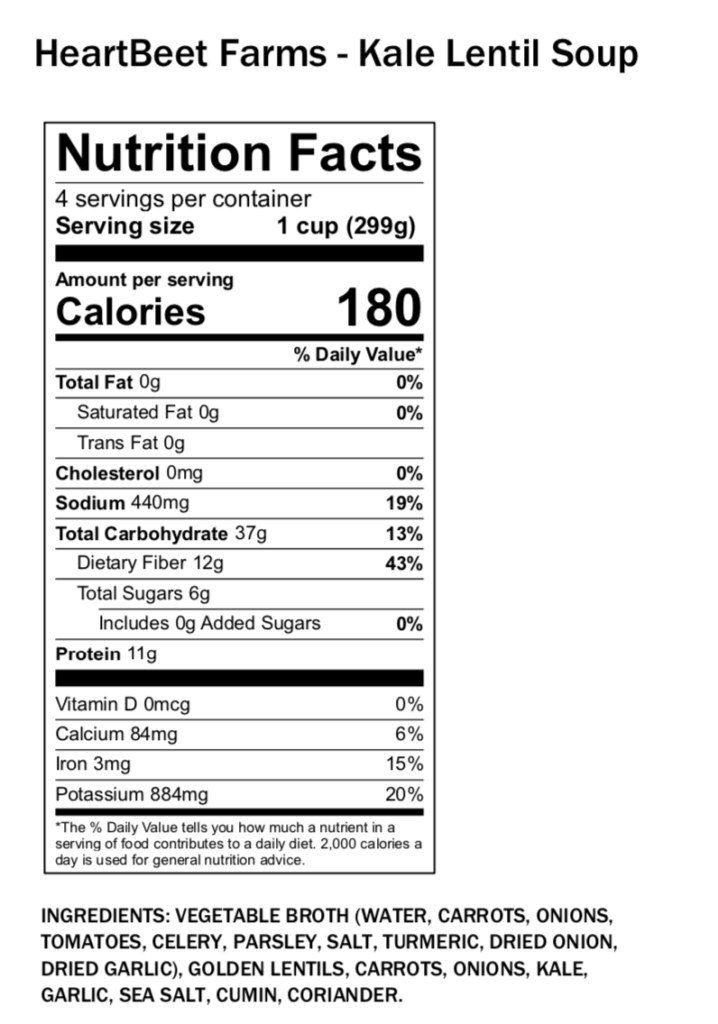 HISTORY OF OUR SOUP JOURNEY
Our soups started out as an idea to accompany our Summer CSA - a quick, farm to table meal that was ready to go for our customers! It then morphed into its own Winter Soup CSA.  But, after I had to move my business from the Centereach farm and had some copacking challenges, the farm-to-table concept lost some of its meaning for me.  I wasn't sure what I wanted to do with it so I allowed it to just be for a few months.  My husband's health and weight challenges and my desire to feel healthier inspired me to try out a plant-based lifestyle - to really make the commitment for 30 days.  It took me 50 years to really try it out and it was well worth the wait!  After 60 days, 41 pounds behind us, and a whole host of health improvements, I realized that our farm-to-table soups had a brand new meaning!  They were the perfect plant-based, oil-free meal!  I have a renewed love for cooking and challenging myself to create plant-based meals, but I need a break some days...and soups make amazingly delicious and filling meals on those 'break' days! These videos represent some of the first years of our soup journey and the people that were involved in the process...

Don8tions - Food for Families
Don8tions is a local organization made up of local kids who have been volunteering at our farms and farm stands since the age of 3 and 5 years old!  They saw a need to help kids in the community that are hungry.  Giving them vegetables was not enough though.  These kids needed healthy, already-prepared meals and HeartBeet Farms farm to table soups was the perfect fit to help these kids.  So they formed Don8tions to raise money for soups that will be donated to local kids and their families in need!  Their funds that are raised will cover the cost of producing the soups. HeartBeet Farms will cover the rest and get them delivered to the designated organizations!