There is still so much to say about mint that we are going to dedicate one more blog post to this powerful herb. Mint is an extremely versatile herb that has a diversity of culinary, healthy living, and household uses. Here are some of the ways in which mint and mint flavor can be used and two simple, healthy 'mint' recipes from friends of HeartBeet Farms…
Mint Tea
Traditional tea herbs include peppermint, spearmint and apple mint. They are delicious and refreshing to the taste and will aide in calming any digestive issue, anxiety and help with sleep.
Mint Flavor Cubes or Iced Tea
Place some fresh mint in your ice cube trays or freeze a few trays of mint tea and use the ice cubes for cooling drinks.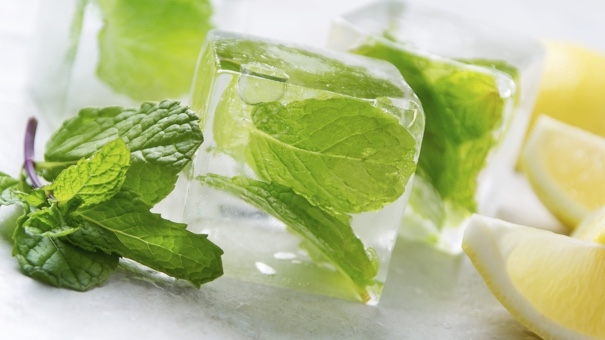 It provides a cool, mint flavor to any drink. Or just place the mint tea in the refrigerator to cool. It makes for a fantastic, refreshing iced mint tea.
Facial astringent
Add a few finely minced leaves of fresh peppermint or other mint to a cup of witch hazel. Store in a glass jar for a week or more, shaking occasionally. Strain the herbs from the mixture after a week.
Mouthwash
Chop a quarter cup of fresh mint, bee-balm, lemon balm, basil, thyme, or oregano leaves and infuse in a quart of boiling water. When cool, strain the herbs and store in the refrigerator.
Breath freshener
Just chew on a few mint leaves and it will leave you with incredibly fresh breath.
Freshen up a Room
Use the essential oil of your favorite mint-family plant in a diffuser. During the summer, I place a few drops of essential oil on a damp towel and place it in the air conditioning vent. It diffuses a fresh scent throughout the house.
Moth repellent/scented sachet
Tie a few branches of strongly scented mint (peppermint, sage, lavender, rosemary, bee-balm) together and place into an old nylon stocking. Use in your closet, drawers, or luggage.
Simple, Healthy Recipes with Mint

Vegetable Mint Fritatta by Carol Fazio
Ingredients:
Asparagus
Shallots
Zucchini
Mushrooms
Spinach
Olive Oil
2 Eggs
Cup of Fresh Mint
Directions
Sauté fresh asparagus, shallots, zucchini, spinach, mushrooms in a little bit of olive oil. You can use any vegetables of your choice. Use an oven proof frying pan for cooking.
Beat two eggs with cut up mint and pour over vegetables.
Let cook for a few minutes and then place under broiler to brown on top.
Mint Chocolate Chip Smoothie by Gina Casazza

This protein shake which was published in a blog post by health coach Gina Casazza has become my main morning meal. And the mint is what makes is so fantastic! The recipe calls for peppermint oil but I am sure you can also use fresh mint! Enjoy!
Ingredients
1 cup of spinach
1/2 banana
1/2 cup of almond milk or coconut milk (I use coconut water)
1-3 drops of peppermint oil (Peppermint essential oil is very strong so use it sparingly)
Cap full of vanilla
1 scoop of chocolate protein powder (I use vanilla powder instead)
2 squares of a dark chocolate bar (75% or higher)
Ice (the more ice, the thicker it gets)
Directions
Blend all ingredients, pour in a glass and enjoy!
I hope we have inspired you to try out mint and explore its many uses. We will have it at our mobile farm stand truck this season so don't forget to pickup your fresh mint in a few months or secure your membership in our HeartBeet Farms Summer-Fall CSA!