During our 7-day stay at Crayfish Bay Organics, we had the option to join the owners and chocolate makers, Kim and Lylette Russell, for breakfast and dinner almost every day. Some people prefer eating out for dinner while on vacation. Not me. Eating organic, freshly prepared meals sourced right from the land and sea outside of our cottage was a highlight of the trip!
We arrived on Saturday, January 20th and were greeted with guava juice,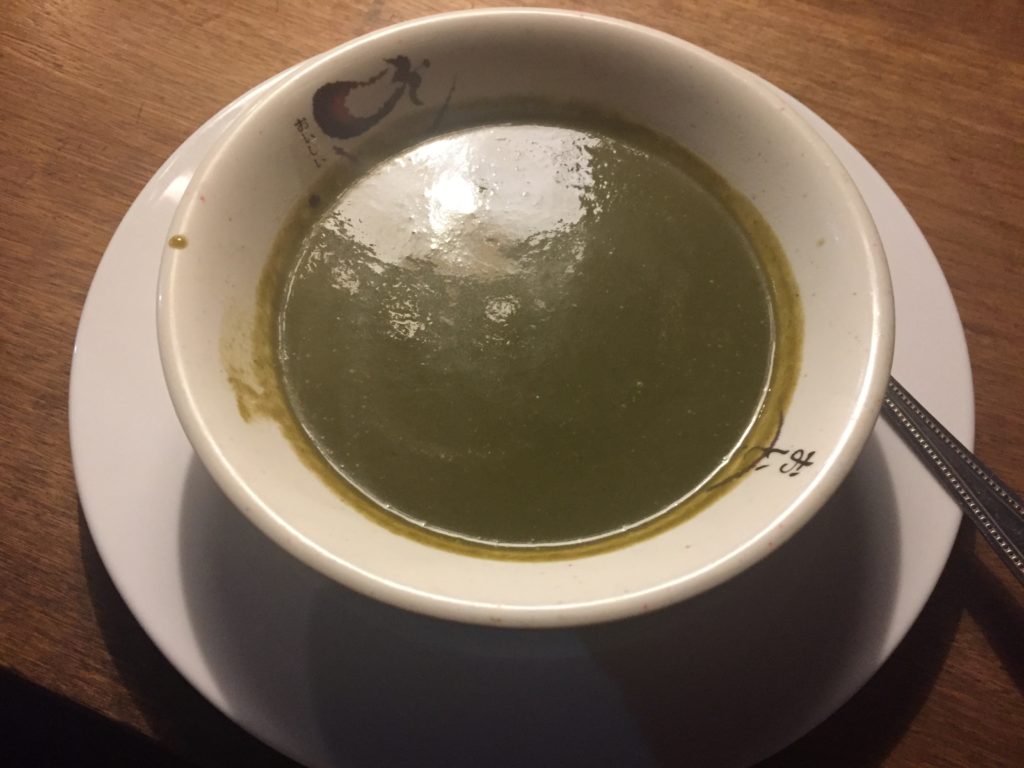 bananas and two Crayfish Bay Organic chocolate bars in our cottage. After getting settled, we walked over to Kim and Lylette's house for our first dinner in Grenada. We started the meal with callaloo soup – a dark green soup. My husband Andrew was probably a little uneasy when he first saw the dark green color! Thankfully, Andrew is very open to trying new foods.
So what is callaloo?? I had never heard of it before. Callaloo is a local green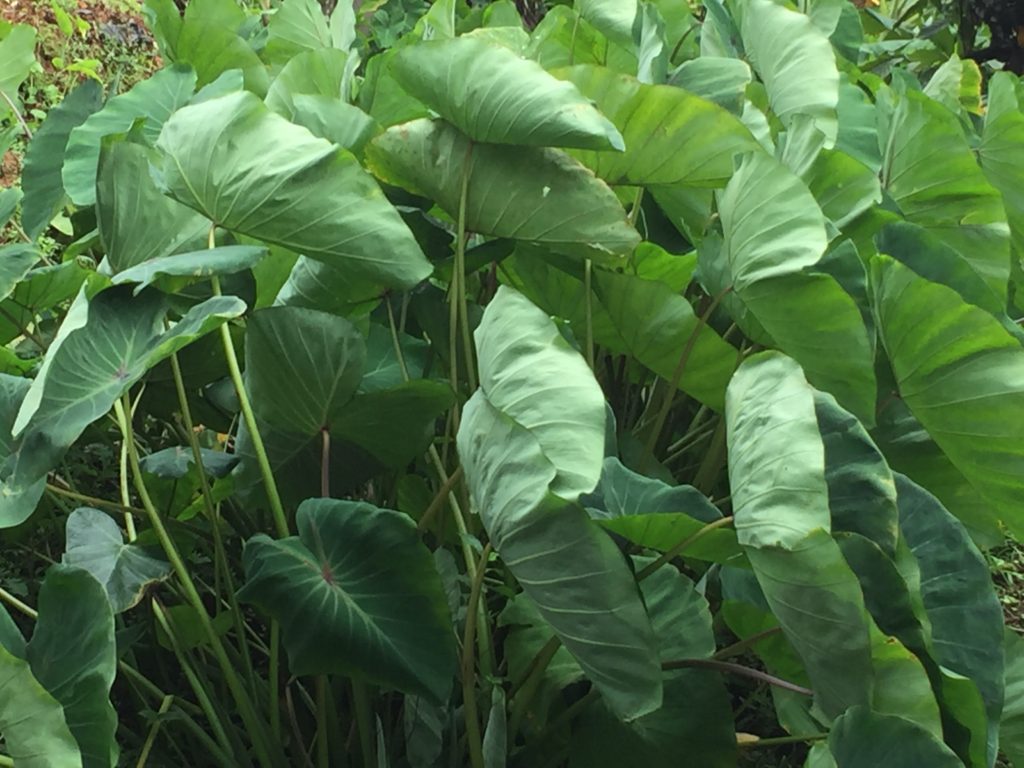 leafy vegetable that is utilized in many Grenadian recipes. Kim's callaloo soup was delicious – even Andrew agreed! It was prepared with many local spices as Grenada is also known as the Spice Island. That evening, after soup, we indulged in a local white fish, freshly caught in the Caribbean Sea and prepared with local spices, salad and rice.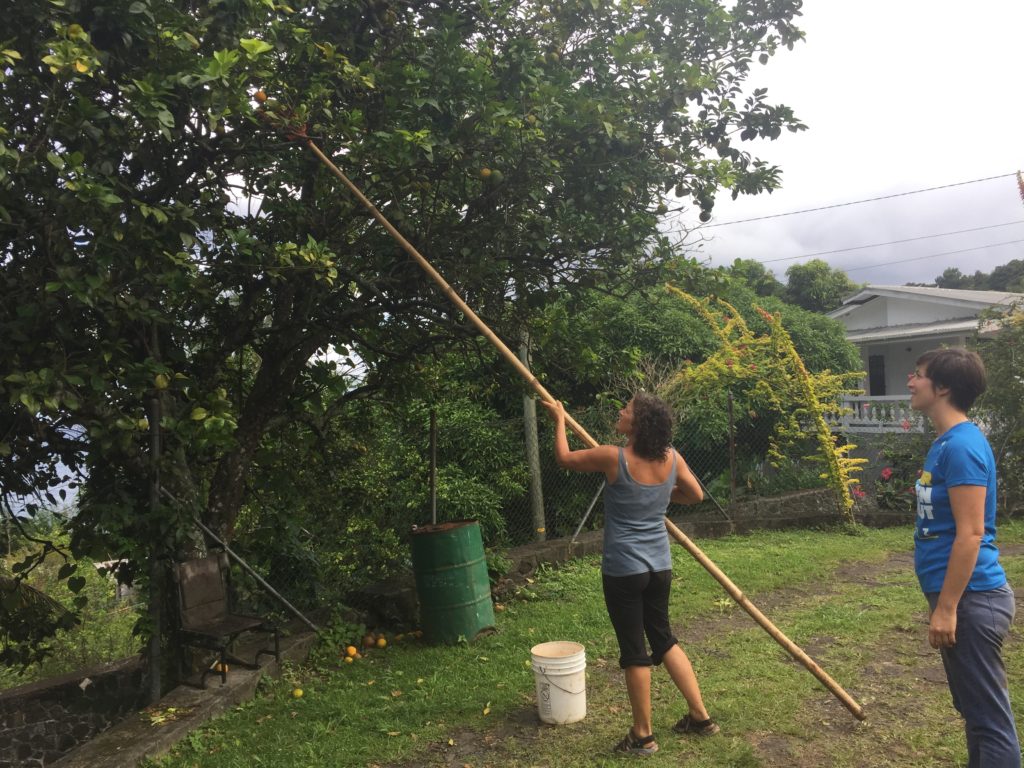 The next morning, a volunteer was gathering oranges from one of the orange trees and we were greeted with freshly-squeezed orange juice, a Spanish omelete with local veggies (the eggs were from their chickens), freshly baked whole grain bread with orange nutmeg jam, and a cacao drink. What a way to start the morning! Everything was delicious, healthy, real, and organic….if we could only eat like that every single day!
Kim and Lylette filled our tummies with meals almost every day including salty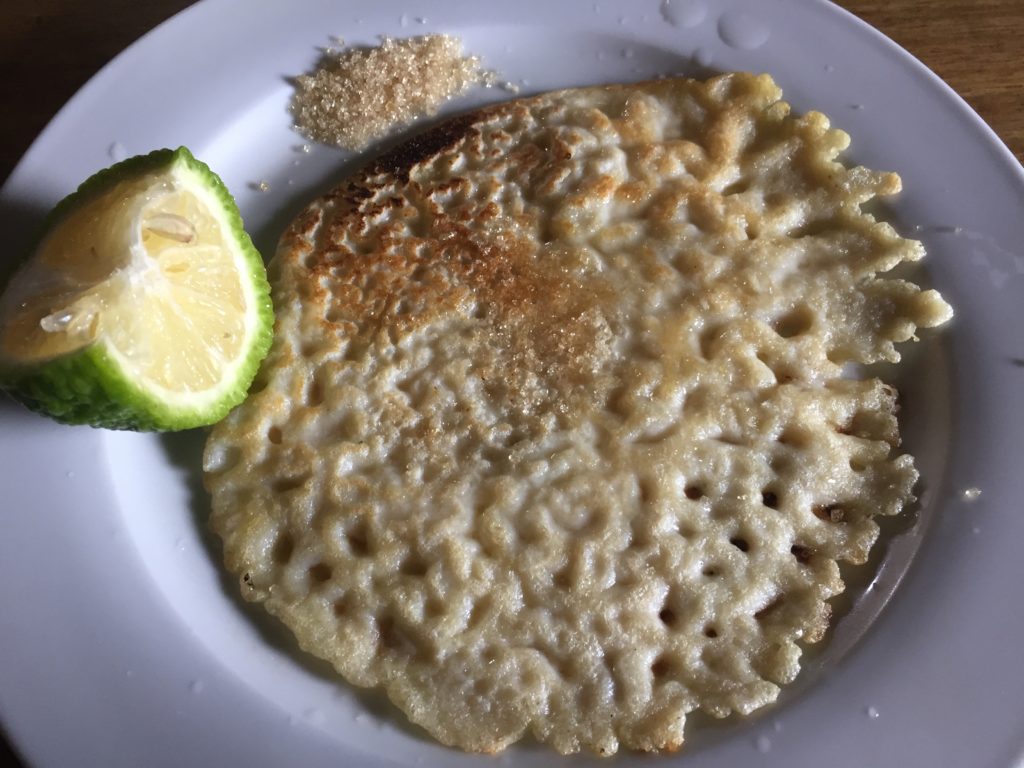 fish egg scrambles, fried plantains, curried fish, and the English version of pancakes which were made with flour, eggs and coconut milk and topped with some sugar and fresh lime juice. The pancakes were so light and tasty vs. the heavier version of pancakes we typically prepare in the United States.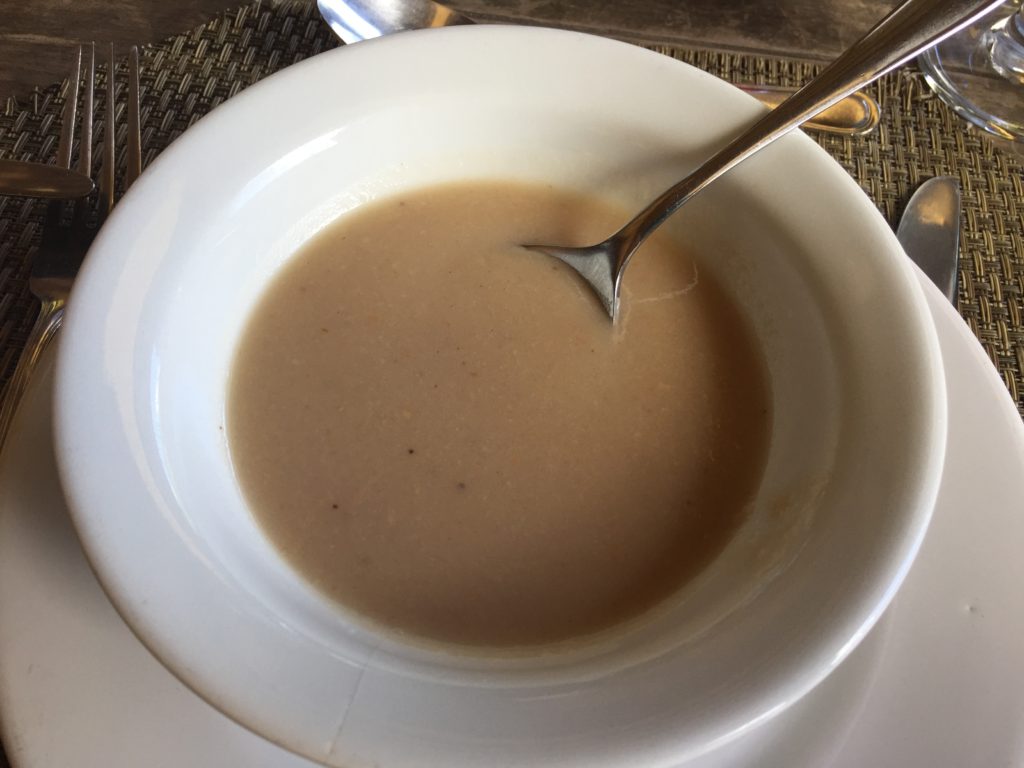 Andrew and I visited the Belmont Estate one afternoon to tour their chocolate making process and enjoy a local Grenadian lunch. The entire lunch was delicious. However, the banana nutmeg soup was what stood out for me. Although the color of the soup was rather dreary, the taste was so vibrant and absolutely scrumptious.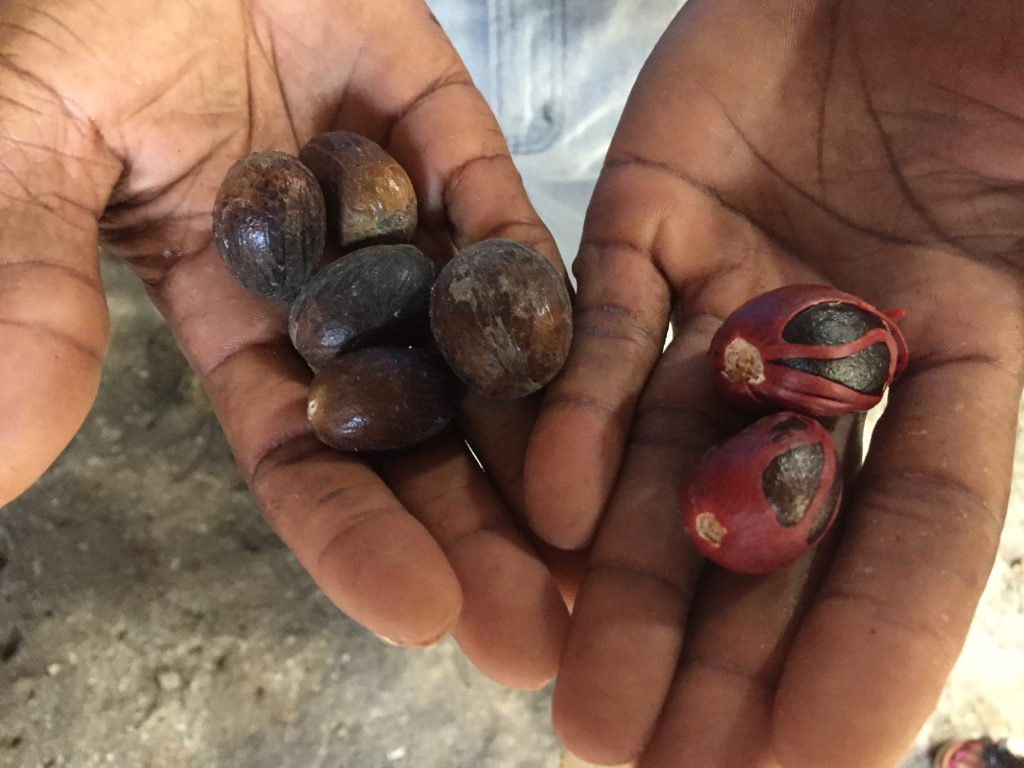 Nutmeg, grown on the nutmeg tree, is a prominent spice in Grenada. There are a few parts that make up the nutmeg fruit. When fully mature the fruit which resembles a nut, splits in two, exposing the red-colored mace which surrounds a single shiny brown seed which is the actual nutmeg.
While in Grenada, we celebrated Andrew's birthday. Lylette was joined by some pastry chefs from Quebec who were visiting Grenada to learn more about the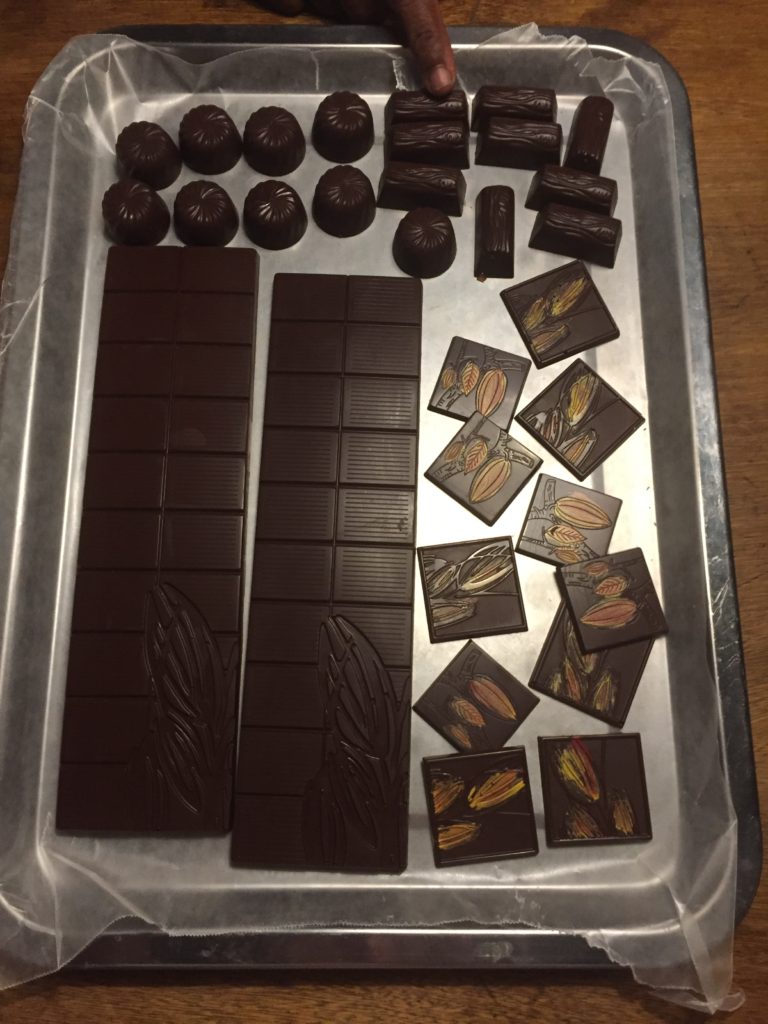 tree to bar chocolate making process. In return they offered to teach Lylette how to make truffles. Fortunately for Andrew, we celebrated his birthday with some special dessert chocolate truffles prepared by Lylette and the Canadian chefs. The truffles were filled with special mango and chocolate fillings and were simply amazing.
These days, I tend to be very particular about where I eat out. Why? Because after eating out, I tend to feel bloated, inflamed and cramped by that evening or the next morning. When that happens, I know that the food is not authentic and was probably filled with preservatives and bad ingredients. While on our Grenada trip, I never felt bloated or inflamed. Andrew also felt great during our stay – until we went to the airport! We had to grab something quick to eat at the airport restaurant before entering the plane and also snacked on some chips on the airplane. I woke up the next day at home feeling bloated and uncomfortable. It's amazing how the quality of food can have such a significant, dramatic and instant impact on your health and well-being.
Eating organic, local, healthy produce does not require a trip to Grenada. We have our own versions of local, organic healthy produce right here in Long Island, New York! So find a local, organic farm, frequent their farm stand, and join their CSA. It will make a significantly positive impact on your life and your well-being – try it out and see for yourself!