Smith Haven Mall Farmers Market by HeartBeet Farms
Join us on Thursdays from 4-7PM, rain or shine,  for our new Farmers Market located in the south-west parking lot of the Smith Haven Mall, just east of the Bahama Breeze Restaurant.
Pre-orders are available with certain vendors (see details below), BUT you DO NOT need to pre-order to attend the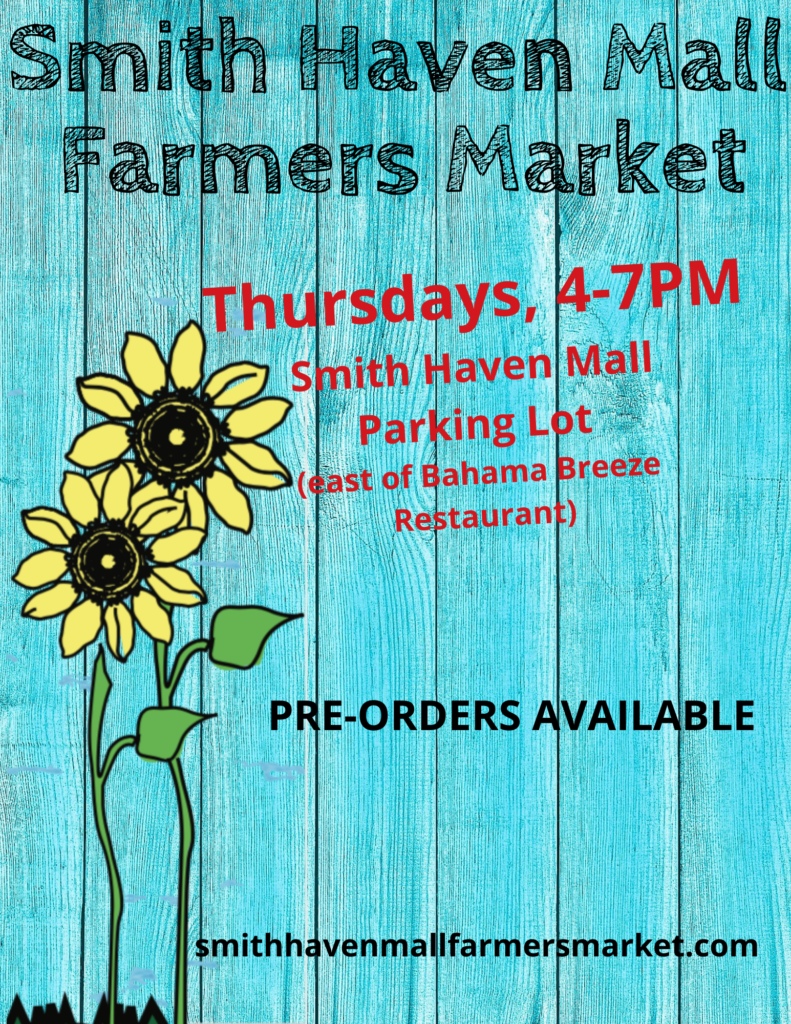 market. 
Market Highlights:
We launched as a drive-thru farmer's market to ensure the safety of both our vendors and customers. Now as Long Island safely re-opens, we have transitioned to a Walk-Thru market.
The Market includes a variety of local produce and food producers who are committed to supporting and serving our local community. See vendor products below.
A list of vendors and links to their websites will be provided each week. Vendors can take pre-orders so your order will be ready for pickup at the vendor booth.
All market visitors must wear masks and all vendors will be wearing masks and gloves. In addition, if a vendor has a line, please stand 6 feet apart. Lines will form into the middle of the market to ensure that other vendors are not impacted. 
PRE-ORDER WITH THESE MARKET VENDORS
Your product will be available for pickup at their vendor booth on Thursdays between 4-7PM.
Visit our website to review our products. Pre-orders can be made via pixiesoapsandsuds@gmail.com. Payments are via Cash, Venmo @pixiesoapsandsuds or Cash App $pixiesoapsandsuds; (pre-orders will receive a text or e-mail with venom or cash app code to make payment).
For preorders: all items are shown on tendcoffee.com ;to place an order for pick up at the market, please email or text to susan@tendcoffee.com or (631)521-0893. To pay ahead, please send email address for an invoice.
Click here to check out our pickle products and pre-order online.  PLEASE note that you want pickup at Smith Haven Mall Farmers Market.
Long Island-based for over 35 years! Stock up for the summer....Our most popular nuts, trail mixes, mixed dried fruit, candy, and chocolate will be available to purchase in our resealable tub line. Ask about our all-natural, fine dark chocolates! Click here to learn more.
Milla's Cheese bread or (pão de queijo) has been a Brazilian delicacy for 200 years. There are only 6 ingredients in our pão de queijo. All of our cheese, milk and eggs are locally sourced and the tapioca is harvested and delivered to us fresh from Brazil! By using tapioca as the flour in our cheese bread, the product is naturally gluten-free. Avocado Pesto is also available.  Learn more here. 
Big Nena's Kitchen specializes in Baklava and Kurabia (butter cookies). Visit our Facebook page for pricing and email, call (631-495-8362) or text with pre-orders.