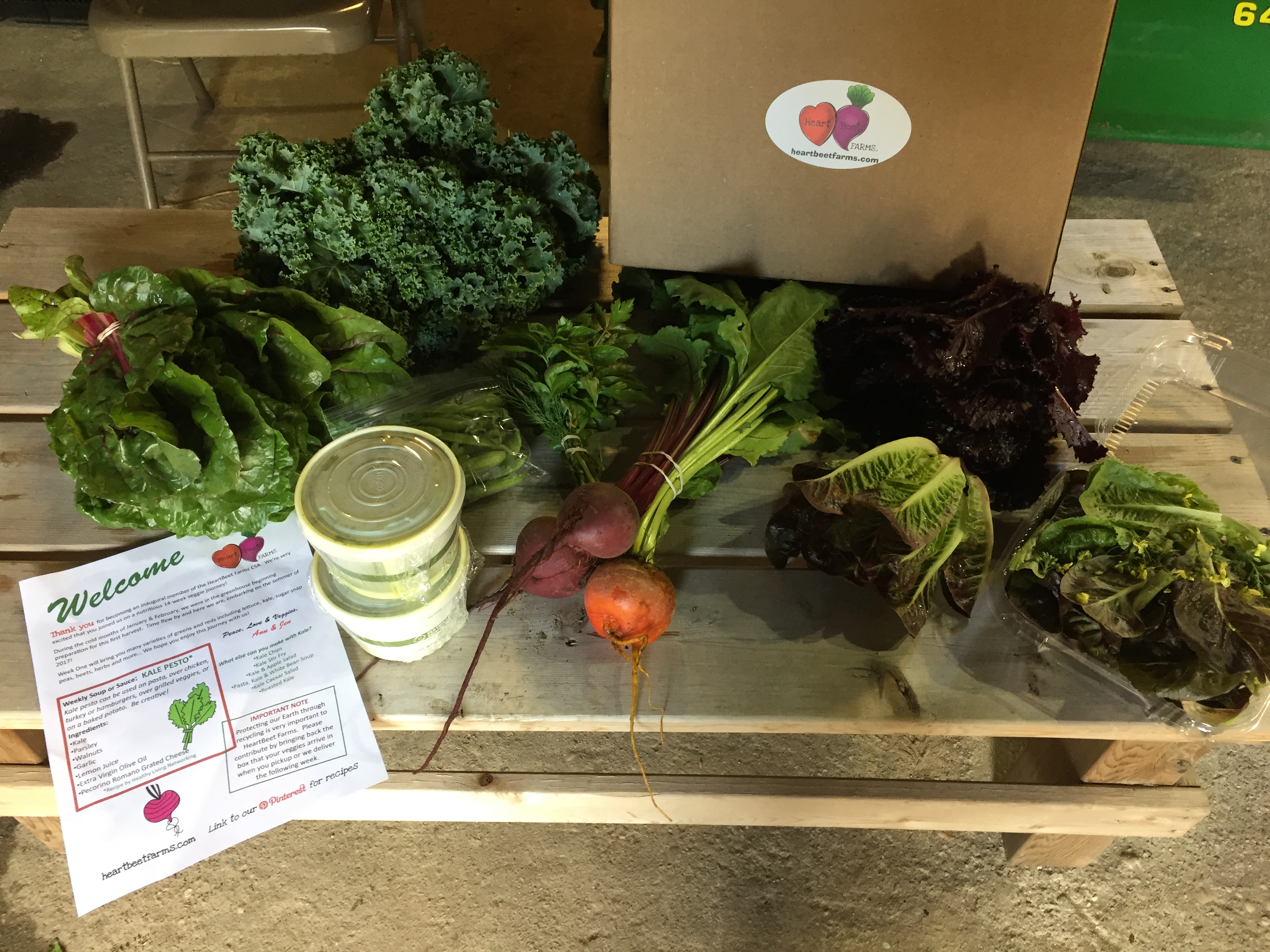 CSA Week #1
HeartBeet Farms Week #1 CSA featured kale pesto and several greens and beets. (*all CSA images represent the half share)
Week 1 CSA Newsletter - June 22
Kristine, 2017 Summer-Fall CSA Member
"When I signed up for HeartBeet Farms' CSA, I had a few goals in mind: to feed my family an all-natural and mostly plant-based diet, to learn to cook some new things I hadn't experimented with before, to feed my one year old a diet of organic foods, and to not spend a ton of money. The end result? All goals achieved! Plus soups/sauces as an added bonus! My husband was nervous about the cost at first, but when you break it down to what it costs per week, it is really very affordable. And while he thought we may be increasing our food budget each week, we actually decreased it by planning meals around what we go in our farm box! We are super satisfied customers and already signed up for next year! Thanks!!!"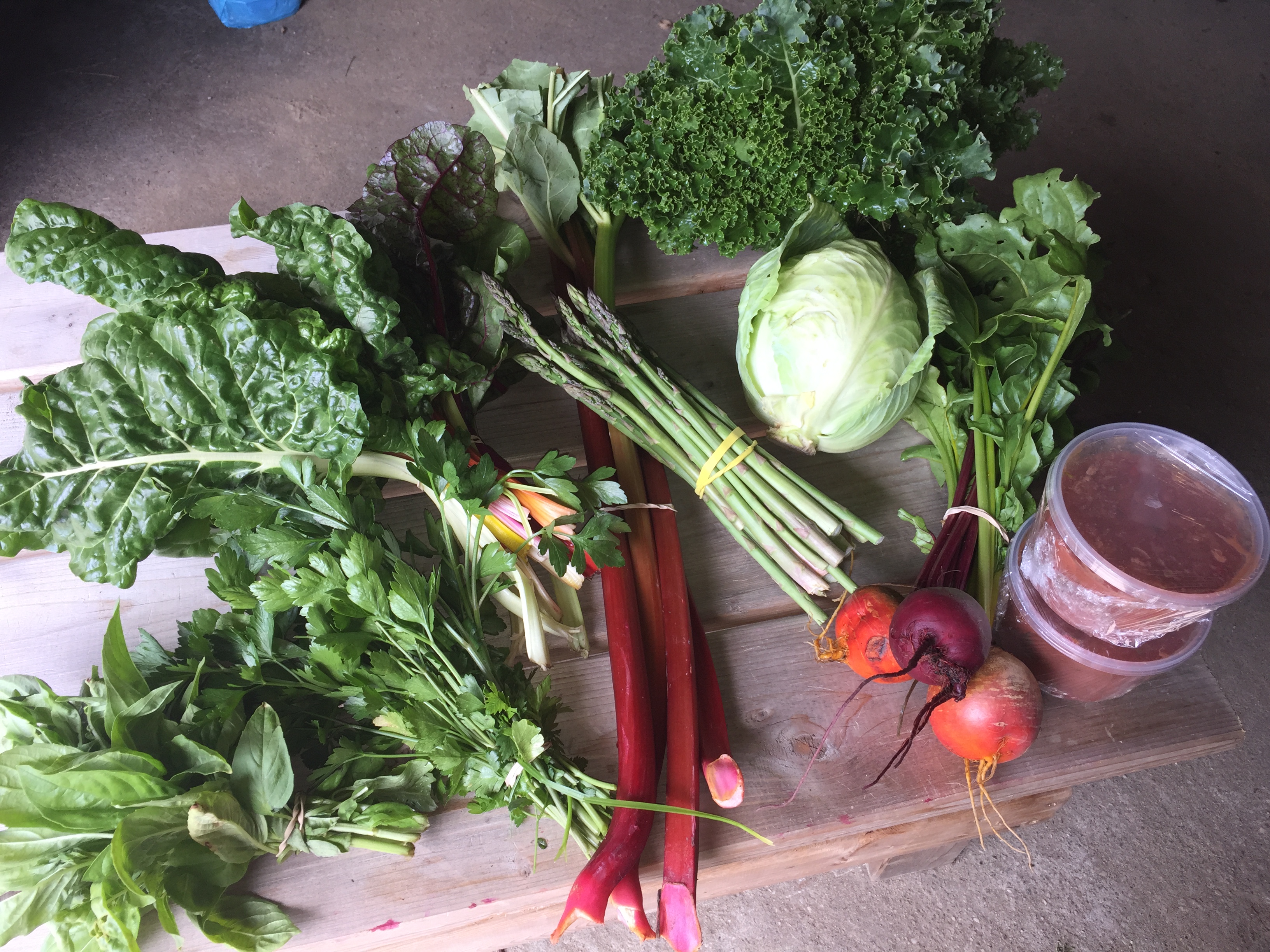 Suzanne, 2017 Summer-Fall CSA Member
"Participation in the summer 2017 CSA has been amazing!  Not only did I challenge myself weekly to use both familiar and completely new vegetables in cooking, but I saw a tremendous impact on my health.  I noticed an improvement in my eyesight within the first few weeks and more recently have noticed an overall stronger immune response.  Eating locally farmed organic vegetables are single handedly responsible for this transformation.  My favorite part of the CSA is the weekly soup, which is always delicious and chock full of nutrition. I could be starving, but I am full after eating the soup because it is so packed with nutrition whereas you could eat 3 pieces of pizza but not be satisfied. But it wasn't just me who enjoyed the CSA, even my dog has been known to enjoy the honey barbecue kale chips I learned to make!"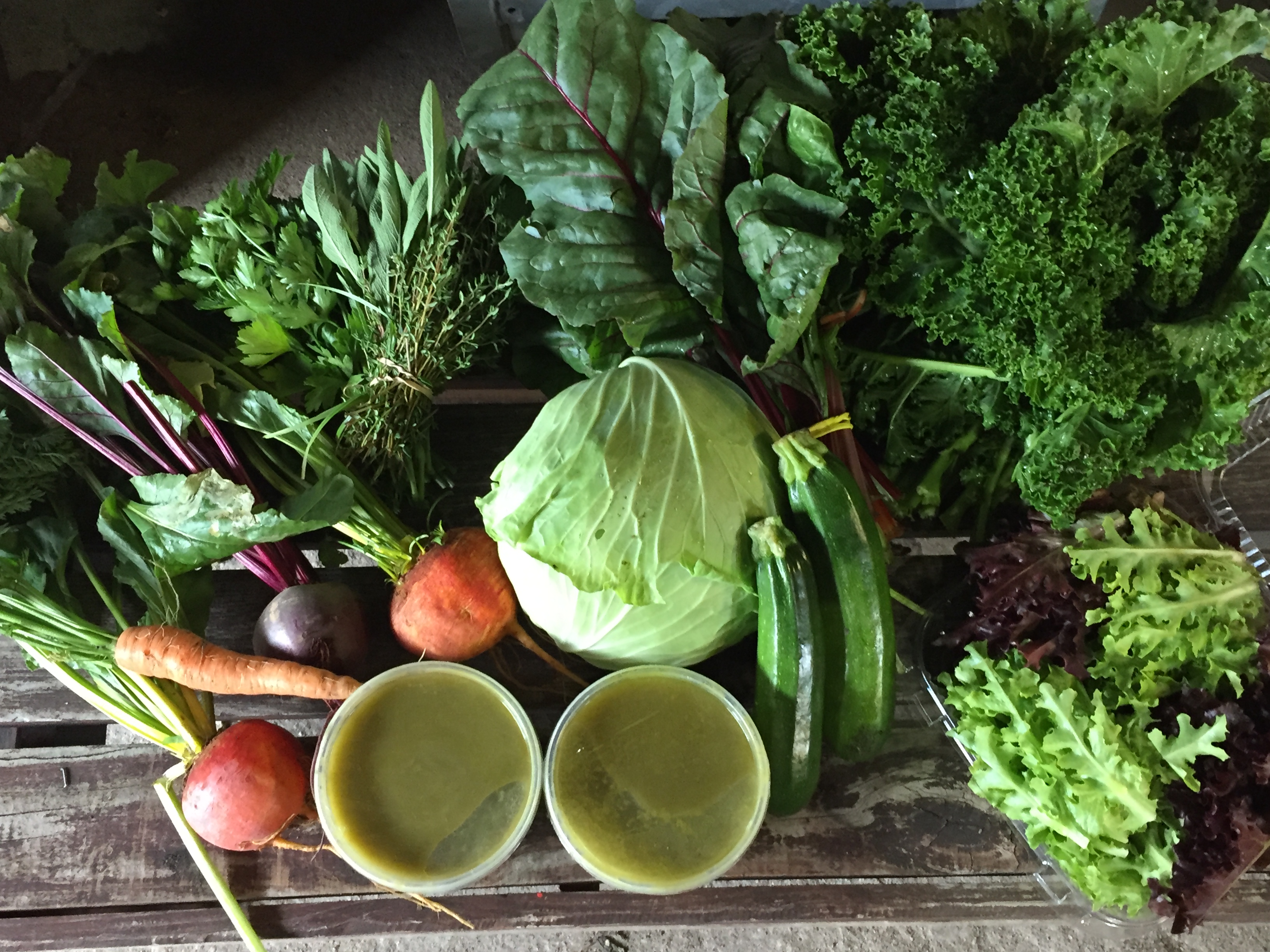 Roberta, 2017 Summer-Fall CSA Member
"HeartBeet Farms was my first CSA experience - and it was tasty, wonderful and supportive.  Each week's farm box was full of the freshest, most beautiful produce...and the soups - delicious!  And how helpful were Jenn and Ann...they are the real deal.... environmentalists, farmers and teachers.  I cannot wait for next year's offerings; I am now a true CSA believer!  Thanks, Jenn and crew - you're the best."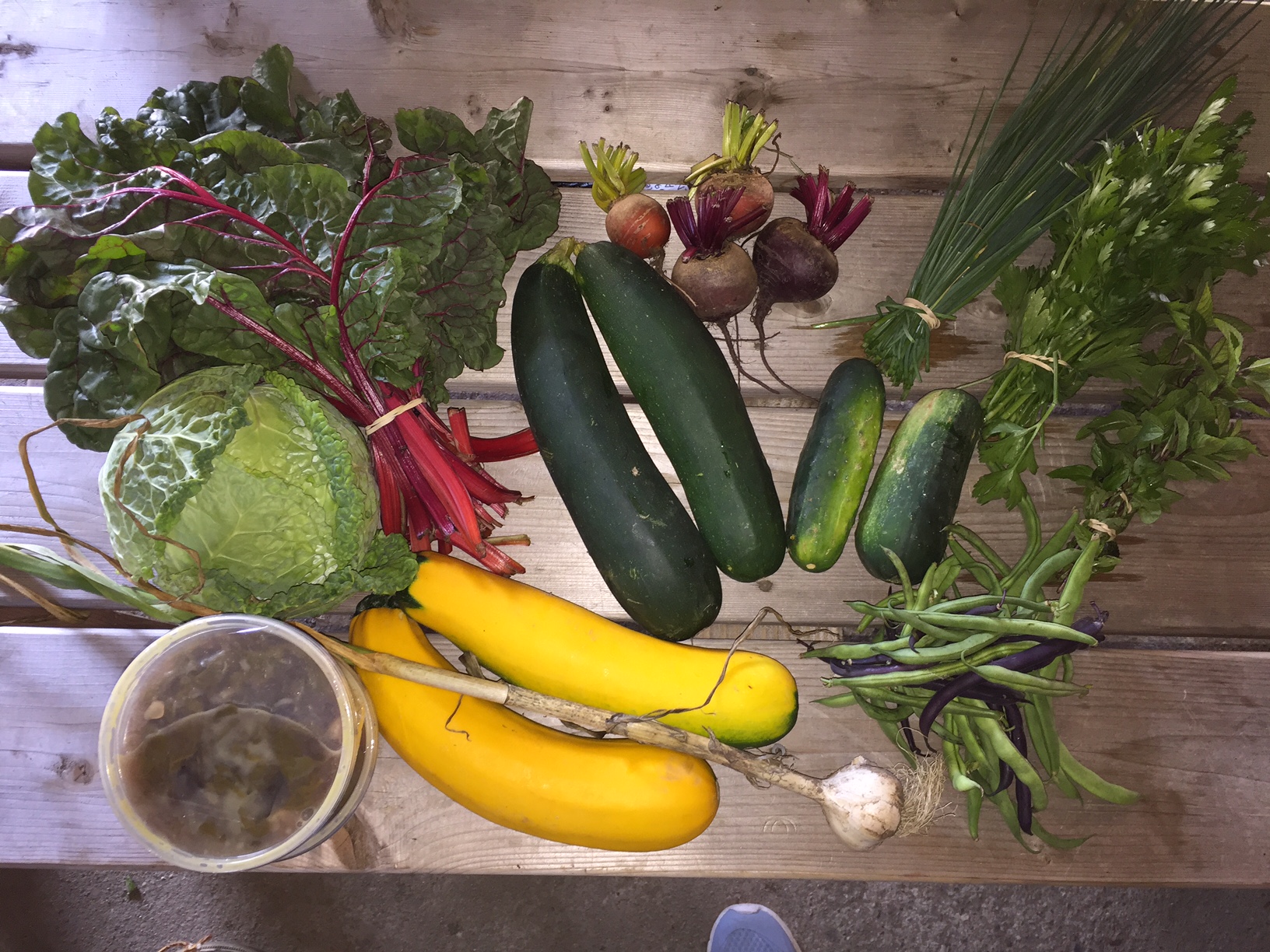 CSA Week #4
Week 4 featured white bean chard soup...
Alicia, 2017 Summer-Fall CSA Member
"Dear Jen and Ann...Thank you, thank you, thank you for everything this summer!!! I really enjoyed the soups, the veggies and trying new things (like Swiss Chard). As a result of eating more veggies I lost 8.4 lbs and it really has me excited to more. You did a good thing for me and I just want to let you know that I appreciated it. = Alicia  <3"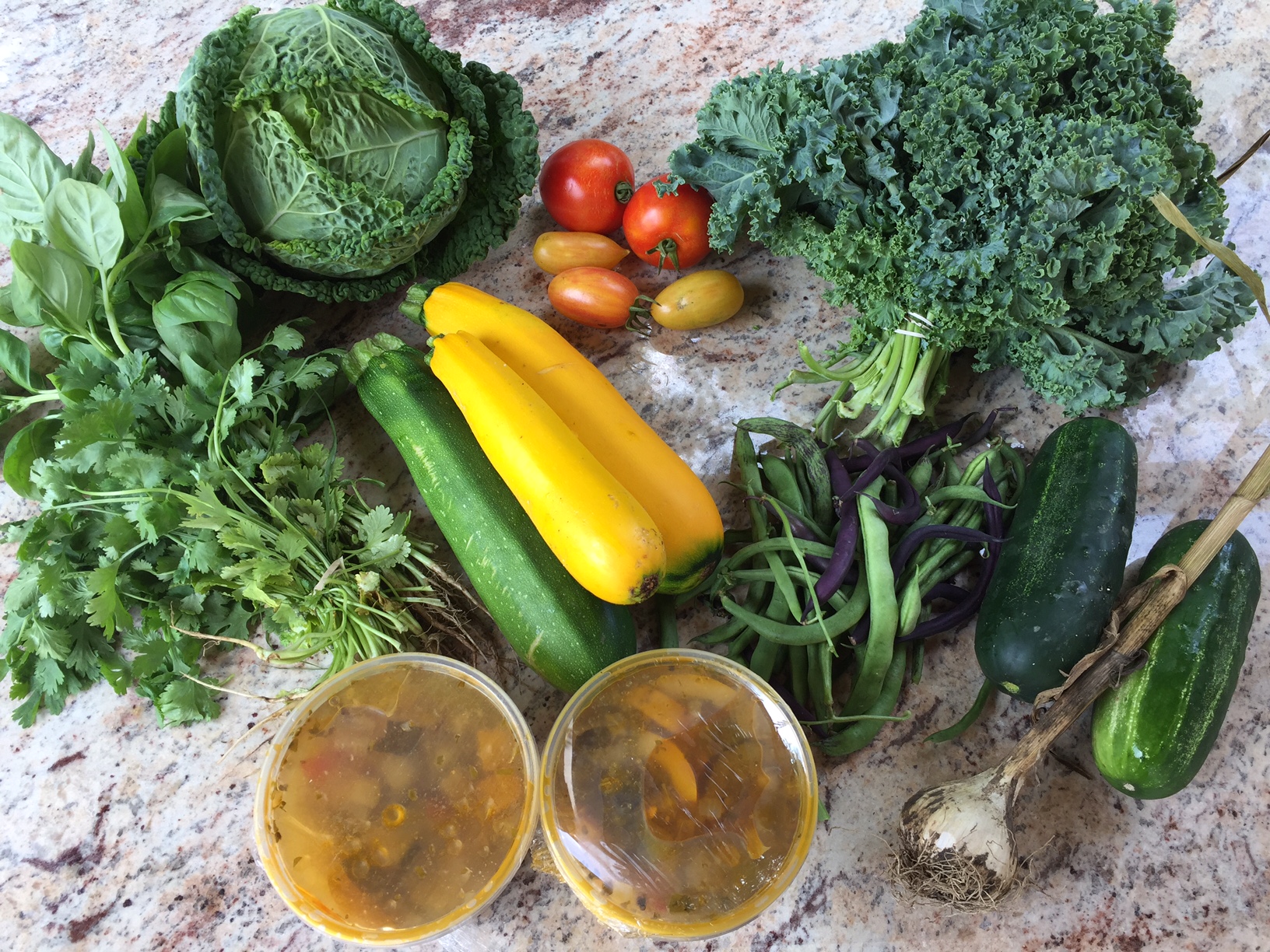 CSA Week #5
Week 5 featured roasted zucchini and squash soup...
The Gabriellini Family, 2017 Summer-Fall CSA Member
"We are so glad we joined the CSA this year. We looked forward to picking up our box of vegetables every week to see what would be in it. It was an absolute pleasure to eat beautiful, organic, locally grown produce and we enjoyed discovering new vegetables and researching different ways of cooking them. Our youngest son, (12), just said to me this morning, "This farm thing really helped me appreciate vegetables and trying different foods." 
Joining with the Marino Meats was an excellent idea, providing customers with grass fed meats, which complimented you organic produce perfectly. We now have been introduced to a business, with very nice owners, who are also community minded and a staff, who are very respectful and polite. They offer great products at reasonable prices. The prices for both the vegetables and meats were excellent and it was so nice to get everything at once.  You are doing a great job in every aspect: farming, community involvement, advertising, organization, not to mention how friendly everyone involved is. We are so thankful we participated in this CSA this year and are looking forward to next year and hopefully starting a large garden, again, in our own backyard.  We hope people spread the word and Heartbeet Farms continues to multiply and reach its fullest potential.  Keep up the great work!"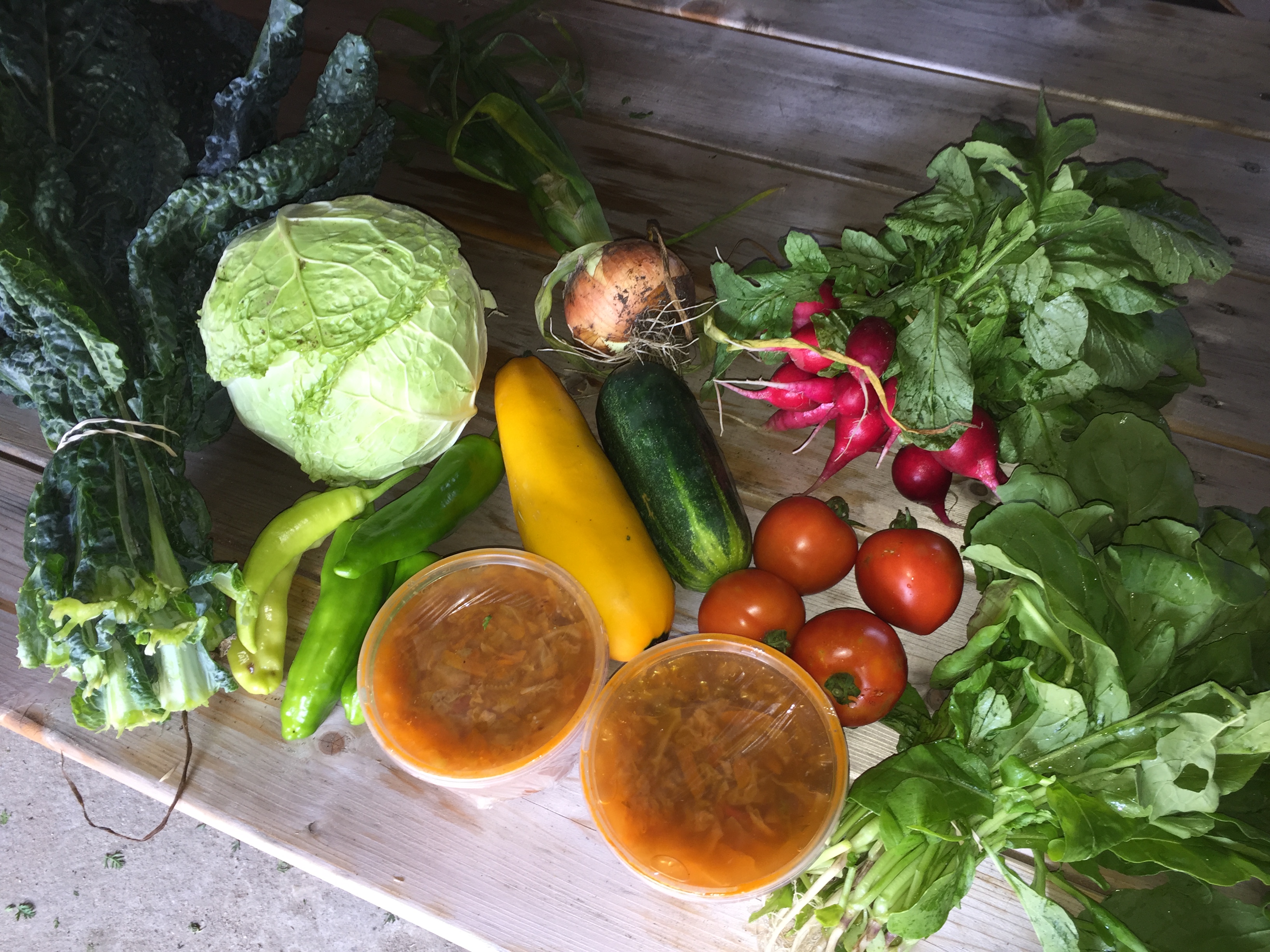 CSA Week #6
Week 6 featured cabbage soup...
Allison, 2017 Summer-Fall CSA Member
"I absolutely loved HeartBeet Farms CSA!  I've done a few others in the past and this one was my favorite.  I loved the variety of the veggies, the taste/quality, and, of course, trying a different soup/sauce every week.  The soup/sauce option may have been one of my favorite parts because it is what made HeartBeet stand out from other CSA and it was a quick easy meal all ready to go.  Both my daughters looked forward to tasting the soup every week once we got home and would dig through the box trying out different things.    I'm looking forward to next year - I've already signed up again!"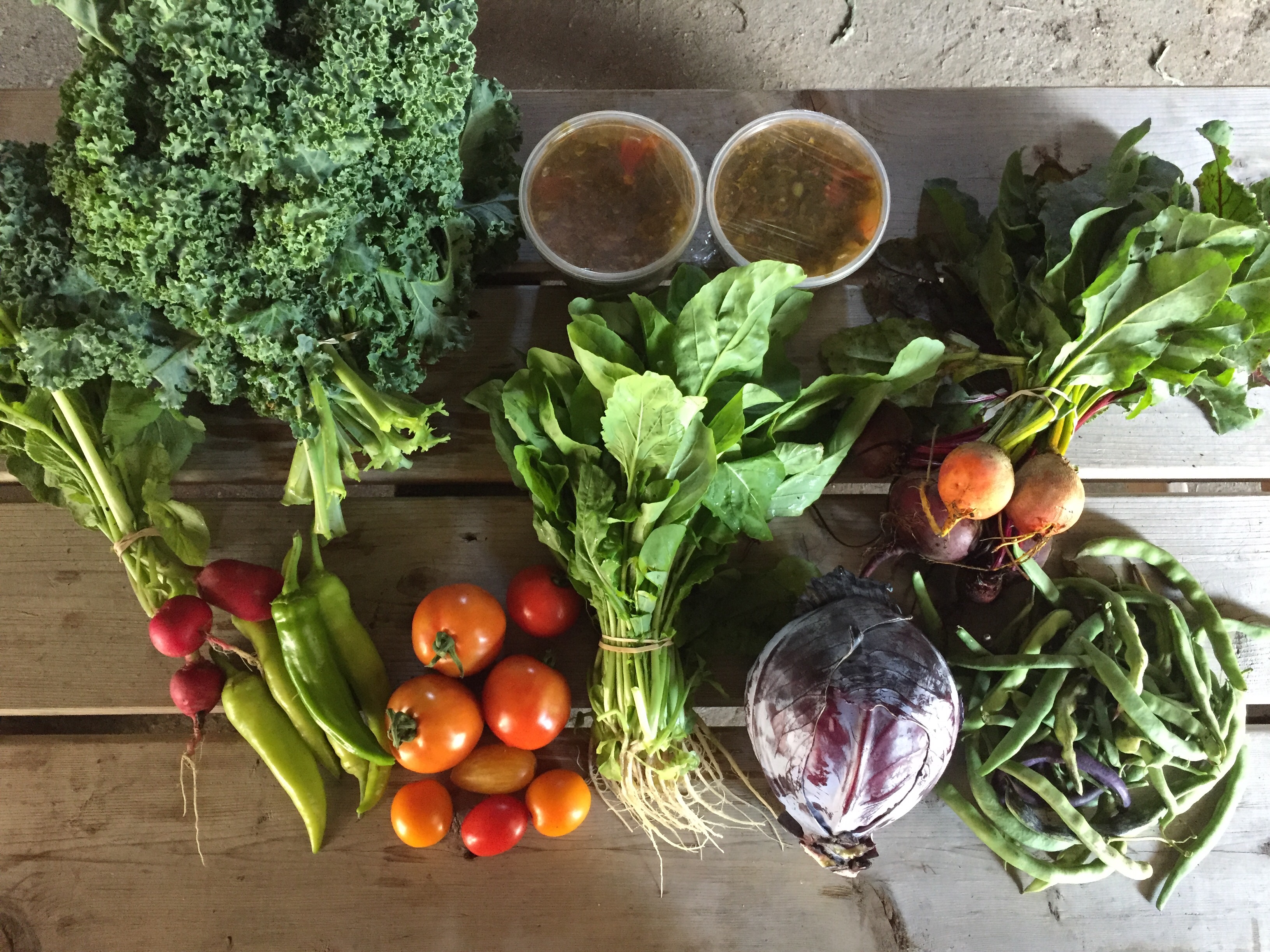 Heather, 2017 Summer-Fall CSA Member
"I don't even know where to begin. Each week I looked forward to picking up new vegetables I had never tried before as well as the sauces. I started the CSA to make myself eat more vegetables and it did just that. Each week I received fresh organic vegetables. Not only were the vegetables delicious the staff at the farm was always kind and helpful. I have taken my students to the farm twice now and it's been amazing to see how hard the kids work and how accommodating everyone is at the farm. From showing us what to plant to harvesting crops there was always fun to be had at the farm. I can't thank Ann, Jenn, and the HeartBeet Farms community enough!"